Newsletter n°6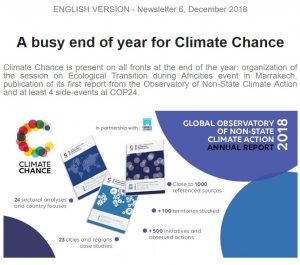 Busy end of year
Africities, COP24 and the launch of the Global Observatory of Non-State Climate Action with the publication of its first report, Climate Chance had a very active year-end and you can find all the details on this end-of-year newsletter.
Newsletter n°5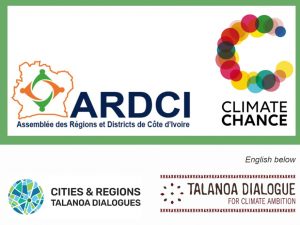 Climate Chance Africa Summit
For this fifth edition of the Climate Chance Newsletter, find out about the Climate Chance Africa Summit and the new projects of the Association.
Newsletter n°4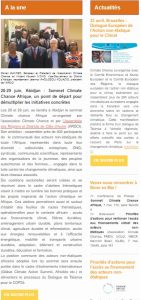 April 2018
The first 2018 edition took some time to be released, but it is rich in content. In this edition you will find: the official announcement of the Climate Chance Africa Summit which will be held in Abidjan; Ivory Coast, on 28-29th June, a briefing of the conference organised jointly with I4CE, the Association of Journalists of the Environment and Weather – France, and a recap of our next events in Bruxelles and Bonn.
Newsletter n°3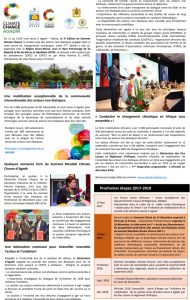 November 2017
For this end-of-the-year edition of the Climate Chance Newsletter, we look back on the success of the Climate Chance World Summit 2017, key moments and overall results of the event. We also give insight on the Association's upcoming events and activities, our COP23 side-events in Bonn, and more generally, our perspective for year 2018.
Newsletter n°2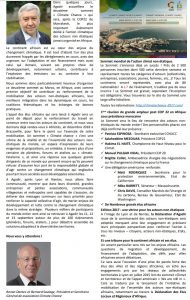 September 2017
In this first edition of the Climate Chance Newsletter, we give you insight into the programme and the participants of the 2nd Climate Chance World Summit, which will be held in Agadir from 11th to 13th september. We also look back on our participations at Desertif'actions, particularly the adoption of the Strasbourg Declaration on land degradation and our participation at the Ecocity Summit, as well as  President Ronan Dantec's meeting with al Gore.
Newsletter n°1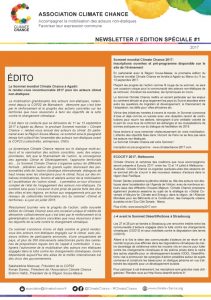 June 2017
In this edition of the Climate Chance Newsletter, you will find a short description of the stakes and objectives of the next Climate Chance World Summit, along with an announcement of the opening of registrations. You will discover as well the Climate Chance calendar, and the upcoming interventions in Melbourne and Strasbourg