Climate Chance Summit 2017
Agadir, Morocco
From 11th to 13th September was held in Agadir the 2nd edition of the Climate Chance Summit, the meeting of non-state actors engaged in the fight against climate change.

This second edition was co-organized by the Souss Massa Region, under the High Patronage of His Majesty the King of Morocco and labeled COP23. The Summit was supported by the COP22 and COP23 Presidencies and by Mrs. Hakima EL HAITE, High Level Climate Champion, Her Majesty's Special Envoy for Mobilization.

More than 5,000 participants from 80 nationalities gathered in Agadir to share their concrete solutions and best practices, and to bring out synergies around common themes. The Summit is a testimony of the gahtering dynamics taken place now and will of concrete exchange between non- state actors. The strong African mobilisation replied to one of the Summit's objectives, "to be a starting point for a reenforcement of cooperation between all African non - state actors."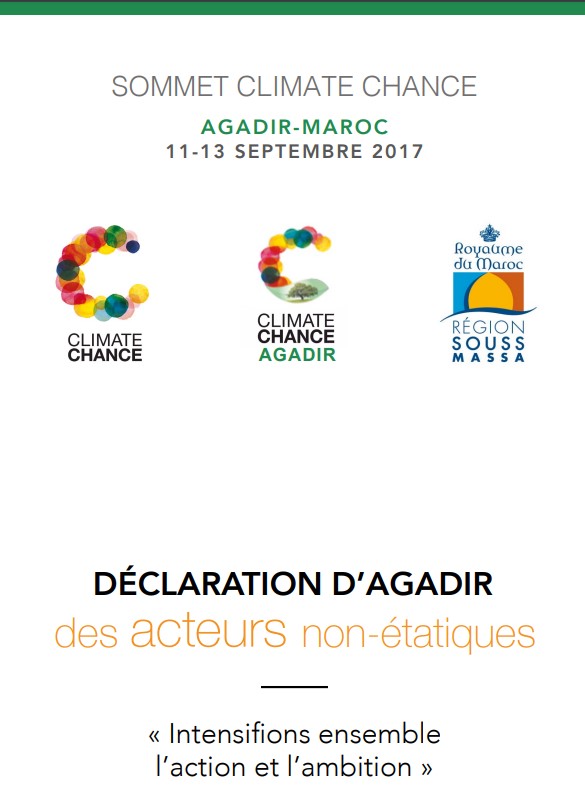 The Agadir Declaration « Together, let us step up climate action and ambitions »
Prepared with the official representatives of the major groups recognized by the United Nations and during a specific meeting on the eve of the closure, the Agadir Declaration is intended to be a clear and operational roadmap, particularly in view of the Facilitative Dialogue of 2018 - renamed since
"Talanoa Dialogue" - the expectation of which is a reinforcement of the collective ambition of the States, to allow the achievement of the ambitious objectives of the Paris Agreement remains reachable. The priorities of the Declaration remind us that it is by supporting the daily action of thousands of elected representatives, business leaders, activists, trade unionists ... ready to take up the challenge of climate change, that the international community will succeed in avoid the disaster scenario.
Photos
Videos
Interview with Ronan Dantec, President of the Climate Chance Association
Interview with Brice Lalonde on the importance of the African continent
Interview with Anne Bare (WECF) about gender issues