From 15th-17th September 2021
Climate Chance Summit – Africa 2021
Virtual format, 3 days online
2,500 climate actors gathered for the 3rd edition of the Climate Chance Summit - Africa in September 2021!
The third Climate Chance Summit Africa 2021 was held virtually from the 15th to 17th September.
A full-day dedicated to the annual Conference of the Covenant of Mayors for Sub-Saharan Africa (CoM SSA) on September 15th.
The Climate Chance Africa 2021 Summit aims to bring together the largest community of non-state actors in Africa: local authorities, businesses, NGOs, trade unions, youth organisations, indigenous peoples, women's organisations, scientists, and representatives of the agricultural community. These are the nine major groups recognised by the UNFCCC that are committed to the fight against climate change and their networks, in relation with national authorities.
This 3rd edition was held virtually, as the health context unfortunately did not allow for an event in Africa.
It was nevertheless a strong moment for mobilising actors on the issues of sustainability and the fight against climate change ahead of the COP 26 to be held in Glasgow in November 2021, and knowing that the COP 27 of 2022 will be held on the African continent, in a country yet to be defined.
Multiple major events and key moments
10 workshops & focus sessions covering all the key issues of climate action :
Role of Women – Decentralised Cooperation – Access to Climate Data for non-state African actors – Access to Energy and Energy Efficiency – Education Training on climate change – Adaptation and water – Sustainable Mobility and transport – Sustainable Building and Construction – Developing Sustainable cities
2 plenary sessions
2 progress updates on  major initiative ongoing across Africa :
Great Green Wall & Biodiversity Corridors – Access to climate funds & Green Climate Fund
70 projects and best practices presented in the virtual Pitch Corner
1 CoM SSA Day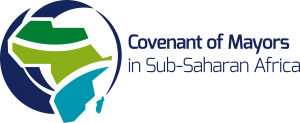 A CoM SSA day on September 15
On September 15, the Covenant of Mayors in Sub-Saharan Africa (CoM SSA) initiative is held a one-day event that highlights the most pressing issues related to climate change and access to climate finance at the local level in the Sub-Saharan region.
The event focuses on a variety of topics related to climate action plans and unlocking climate finance for sustainable infrastructure, climate change adaptation and energy access. The more than 230 CoM SSA mayors and partners will share their experiences and successes, focusing on how to overcome the challenges local governments face.