Climate Chance Summit 2016
Nantes, France
The Climate Chance Summit in Nantes was held from 26th to 28th September 2016.. Local authorities, businesses, NGOs, associations, trade unions, scientific organisations… in all nearly 3,000 representatives of civil society from 62 different nationalities took part in the hundred or so events at this first edition of Climate Chance, exceeding even the most optimistic expectations.

Over 3 days, united in a collective dynamic, they were able to meet, debate, exchange and pool their experience, good practices and failures, thus drawing a picture of the state of action in the fight against climate change worldwide, and, above all, highlighting the opportunities that are being created by this resolute fight.

Building on the success of this first edition, the Climate Chance summit has become a key event on the climate agenda.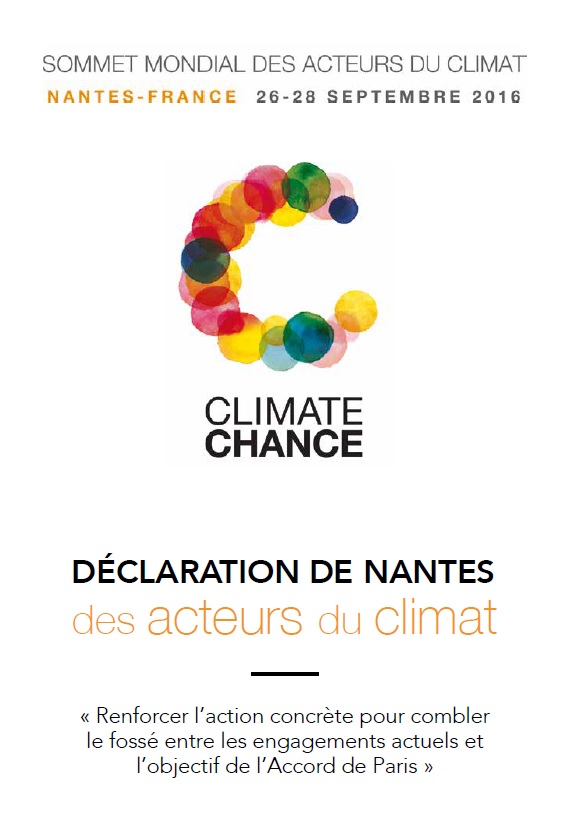 Six weeks away from the COP22 in Marrakesh, the non-state actors, now ready for battle, widely signed the "Nantes Declaration", making it the most broadly signed Declaration in Climate history.

In this common roadmap for all civil society, they urge States to go further in actions to meet the targets set during the COP21 and submit concrete proposals to achieve this.

"The message is clear", indicates Ronan Dantec, President of the Climate Chance Association. "We are no longer in a time for declarations, but in one for action. And it is in the regions that action takes place. States cannot succeed without civil society. Climate Chance proves that civil society is available to help Governments achieve their targets". Two points emerge particularly from this declaration: the shared desire of non-state actors for a decentralised approach, with the regions driving climate actions, and a need for easier access to financing, particularly for Southern countries.
Download the document
313
Contributions received
75
Volonteers over 3 days
Videos