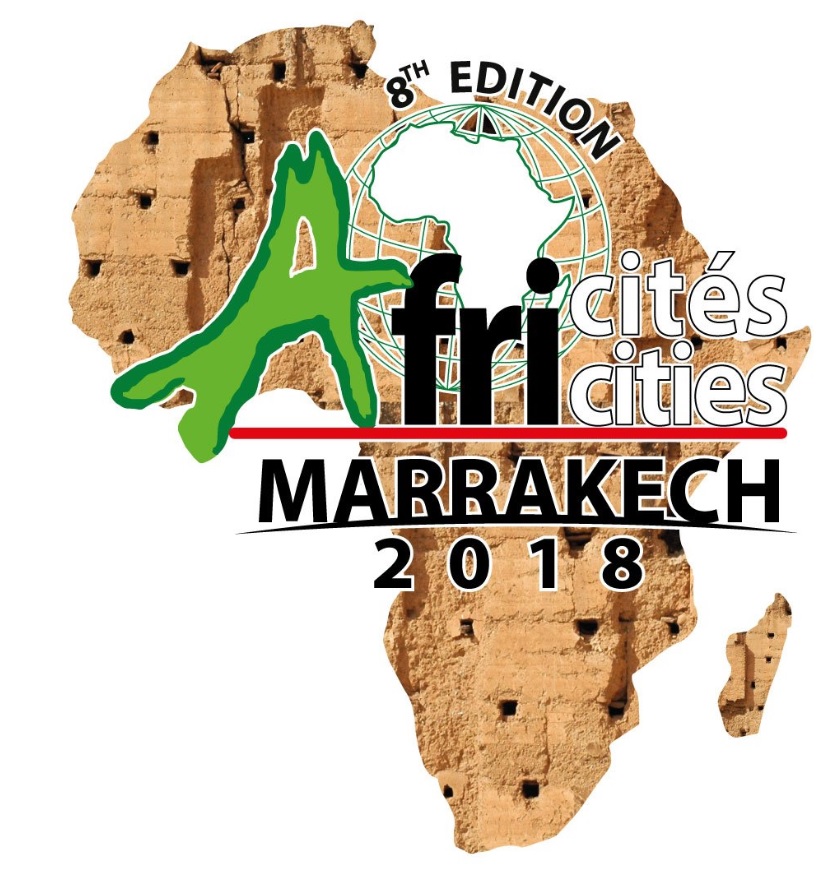 Climate Chance participates in Africities Summit
Climate Chance participates in the 8th edition of the Africities Summit by organizing some of the sessions of this event taking place from 20 to 24 November 2018 in Marrakech.
An event organized by United Cities and Local Governments of Africa (UCLG-A)
Africities is the flagship pan-African event of United Cities and Local Governments of Africa, and is held every three years in one of the five regions of Africa. Communities and local authorities in African countries are mobilized, as well as financial institutions, civil society organisations and development partners at continental and international level.
UCLG-A: partner of Climate Chance
Climate Chance Association aims to bring together and  create synergies between the diversity of state actors acting at the local scale to promote climate action by bringing together non-state actors (local governments, business, NGO, trade unions, research organisations, farmers, youth, indigenous peoples and women).
Furthermore, through their work of mobilizing local representatives, UCLG-A is a privileged partner of Climate Chance. Convinced that we will only be able to take on the challenges of climate change, sustainable development and rapid urbanisation, by gathering the diversity of african actors around the same table, it is important for Climate Chance to participate to this major event that is Africities 2018.
The Climate Chance delegation in Africities
A Climate Chance delegation composed of Ronan Dantec, President of the Association, French Senator, spokesperson on climate for UCLG, Vanessa Laubin, Executive Director, Romain Crouzet, Programs Coordinator, Leila Yassine, Program Coordinator- Africa, and Coline Desplantes, Program Officer, was in Marrakesh from November 19 to 25 for an active participation in this important event.
Preparation of the next Climate Chance Summit – Africa, Accra 2019
During one of the plenary sessions, the President of Climate Chance announced officially the next Climate Chance Summit- Africa 2019 that will take place in Accra, Ghana.
He met with Mrs Hajia Alima Mahama, Ghanaian Minister of local governments and rural development and Frédéric Vallier, Secretary General of CEMR, for an exchange of views in preparation of this event.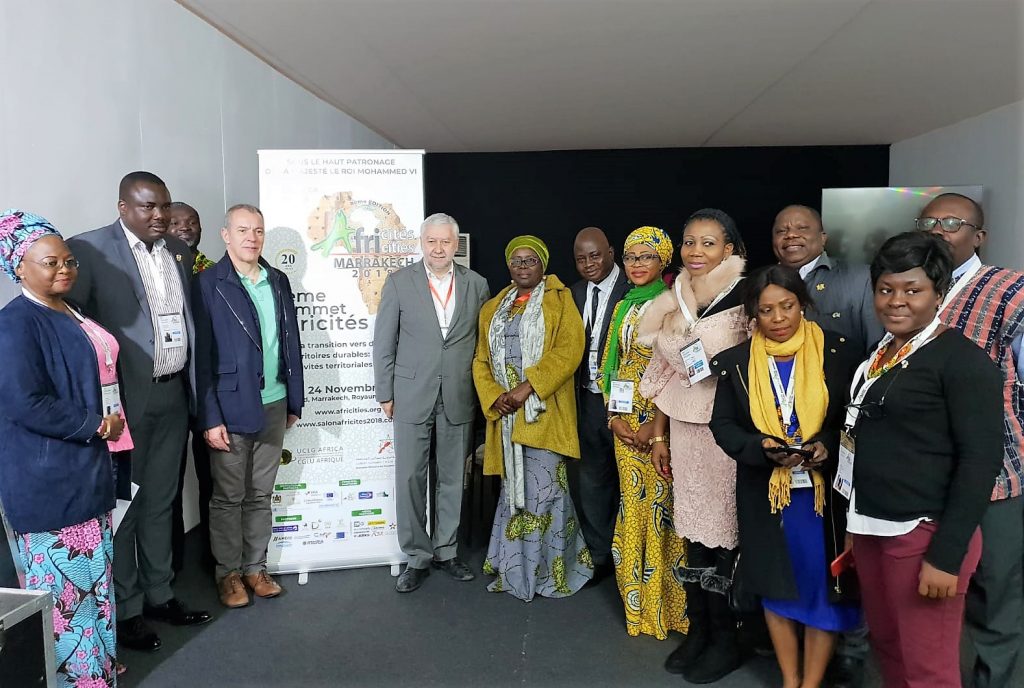 Climate Chance' program at Africities
Climate Chance organises the STA 2 session on the Ecological Transition in Africa
=> Climate Chance is organising the STA 2 session on the Ecological Transition in Africa, on November 20 ( From 2:30 pm to 5:30 pm). This event brought together a panel of high- level experts on the transition issues: Felice ZACCHEO – Head of DG DEVCO of the European Commission; Secou SARR –  ENDA Energie Director; Mustapha BAKKOURY – President of Casablanca-Settat region and President of MASEN; Kobie BRAND – ICLEI Africa Director ; Alice NABALAMBA – Chief Urban Dev. Officer, Infrastructure, AfDB ; Manuel DE ARAUJO – Mayor of Quelimane in Mozambique ; Jean-Pascal MAGE – BlueKarb CEO; Cheikh GUEYE – Mayor of Dieuppeul-Derkle and member of the Dakar municipal council; Abderrahim KSIRI – EESCE; Hicham AMADI, President and General Director of 2WLS.
Session facilitated by Luc GNACADJA, former minister of the Environment of Benin, former Executive Secretary of UNCCD, member of the Climate Chance Association; and chaired by Mrs. Rosa OUSSOUKRO RAPONDA, Mayor of Freetown, Sierra Leone
Indeed, the ecological transition requires a reconsideration of the priorities of local economies and their redefinition in the light of the principles of sobriety, energy efficiency and the circular economy.
The choices that African cities and territories will make in terms of access to energy, land use planning, the organization of production, transport and trade systems, and their more or less inclusive nature, will be of crucial importance for the future of Africa and the world.
Addressing the ecological transition in Africa means reflecting on the economic, ecological, health, social and political challenges of a continent that is currently experiencing pronounced economic growth and which should host 40% of humanity in 2100.
In Africa, the question of the balance between immediate development priorities and long-term needs for climate resilience is an important concern. Some territories are already placing ecological transition at the center of their strategy, thus turning to new opportunities. African cities are particularly under pressure and must increase their capacity for adaptation and mitigation quickly in order to fully embrace the ecological transition, in consultation with stakeholders in the territories, including local elected officials.
This session has explored the issues and opportunities on:
Access to clean and renewable energy for African cities
The circular economy at the service of African cities, for efficient waste management (solid and liquid) and better environmental health of residents
Mobility and sustainable transport that is less polluting in African territories
Environmental health in African cities: pollution and air quality challenges
Soil conservation, sustainable agriculture and territorial food sovereignty
Preservation of forests and biodiversity in the face of urban sprawl in Africa
Adaptation to climate change, the importance of setting up early warning systems
Financing mechanisms for ecological transition in Africa.
Climate Chance organises a side-event on the UCLGA-Africa stand on The Contribution of African non-state actors to the Talanoa Dialogue: Assessment of the Climate Chance Summit 2018- Africa
This side event was the opportunity to present the main contributions to the Talanoa Dialogue after the Climate Chance Summit  – Africa 2018, that took place in Abidjan- Côte d'Ivoire, on the 28-29 of June. The Abidjan Declaration was presented as well as a follow-up to the Declaration of Local and Subnational Leaders of Africa, the new climate initiatives adopted on the African continental level, the commitments and the priorities of African non state actors to jointly fight climate change on the continent, which have been grouped around  thematic coalitions of the Climate Chance Summit Africa 2018.
Participation in the Climate Day, 22 November
Ronan DANTEC, President of Climate Chance, French Senator, and spokesperson on climate for UCLG, also actively participated to the Climate Day in Africities on the 22nd of November. He spoke during the first plenary about Cities and Territories at the heart of the climate agenda.
It was also the occasion to announce the next Climate Chance Summit- Africa 2019 that will take place in Accra, Ghana.
With the help of Climate Chance, the Climate Day is welcoming Mr. Tomasz CHRUSZCZOW, High Level Champion for the Climate, member of the Polish presidency for COP24 (December 2018).