CLIMATE2020: The Worldwide Online Climate Conference Series
"Join us and currently more than 1,500 international delegates for an exciting online experience and, e.g. read about fascinating climate research, interact with participants from all over the world(...)"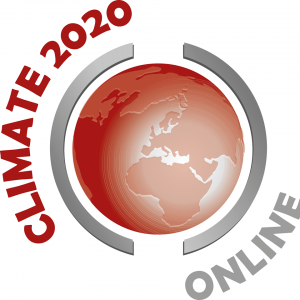 The Worlwide Online Climate Conference
About the CLIMATE2020 event
 »
CLIMATE2020 takes place from 23-30 March 2020 exclusively on the internet, in a climate-friendly manner – we will even off-set your CO2 emissions!

You will have with free unlimited access to all kinds of high-quality scientific articles, climate projects and further learning opportunities 24 hours a day, 7 days a week.

Get involved in international dialogues and the exchange of ideas with experts from the academic, political, economic and social sectors and the rest of the community.

CLIMATE2020 is guided by and will contribute to the Sustainable Development goal 13 (Climate Action).
The objective of the on-line conference is to convey the most recent research results on climate change and its impacts, as well as to provide especially early career researchers from all over the world with the opportunity to present their findings at a global level. This event fills a knowledge gap in respect of thematic discussions on climate change mitigation and adaptation, which will be performed both in an integrative and interactive way. The conference also offers you insights on numerous climate projects, initiatives and strategies, which are currently being implemented on the five continents and considered to be latest examples of worldwide climate change adaptation and mitigation activities.
The best thing: You are only a mouse-click away from this event! You can easily log in over the Internet no matter where you are actually located: in your office, at school, university or on your smartphone on your way home! »
« In line with the UN's Sustainable Development Goals, especially Goal #4 that seeks to ensure inclusive and quality education for all and promote lifelong learning, Hamburg University of Applied Sciences' Research and Transfer Centre "Sustainability and Climate Impact Management" (FTZ-NK) actively fosters Education for Sustainability across themes and borders. Promoting sustainable practices and offering access to state-of-the-art knowledge will be a distinctive feature of the online projects developed by our team in collaboration with international partners. In this respect, FTZ-NK will pursue an open access approach and using open educational resources whenever possible.
The online courses offered on this platform address the chronic human capacity problem that constrains the quicker uptake of sustainability knowledge and related skills in many parts of the globe. Through this, we seek to foster international learning communities and actively contribute to supporting international multi-stakeholder partnerships.
Note: You will need to create a user account before you can register for an online course. »