Declaration of Local and Subnational Leaders of Africa
Discover the Declaration of Local and Subnational Leaders of Africa "Fighting against climate change in Africa together"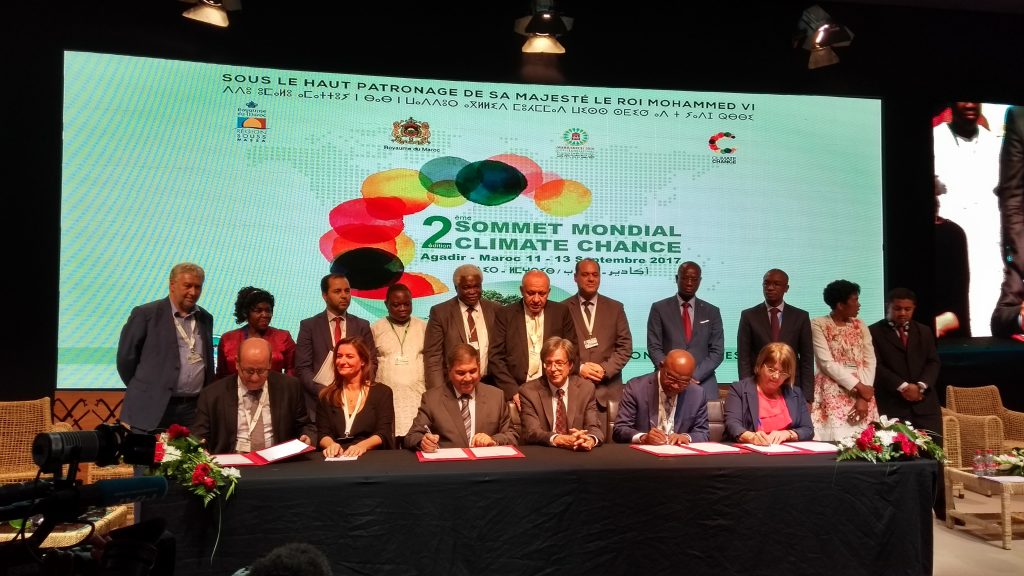 Background
The Climate Chance World Summit 2017 in Agadir was the opportunity for the launch of a specific call from African elected officials, commiting on the execution of their climate plans and the mobilisation of their civil society. Thanks to the active support of the Climate Champion, Hakima el Haité, Morocco taking charge of travel, some fifty local and regional elected representatives from Africa made their voices heard and highlighted their priorities and commitments.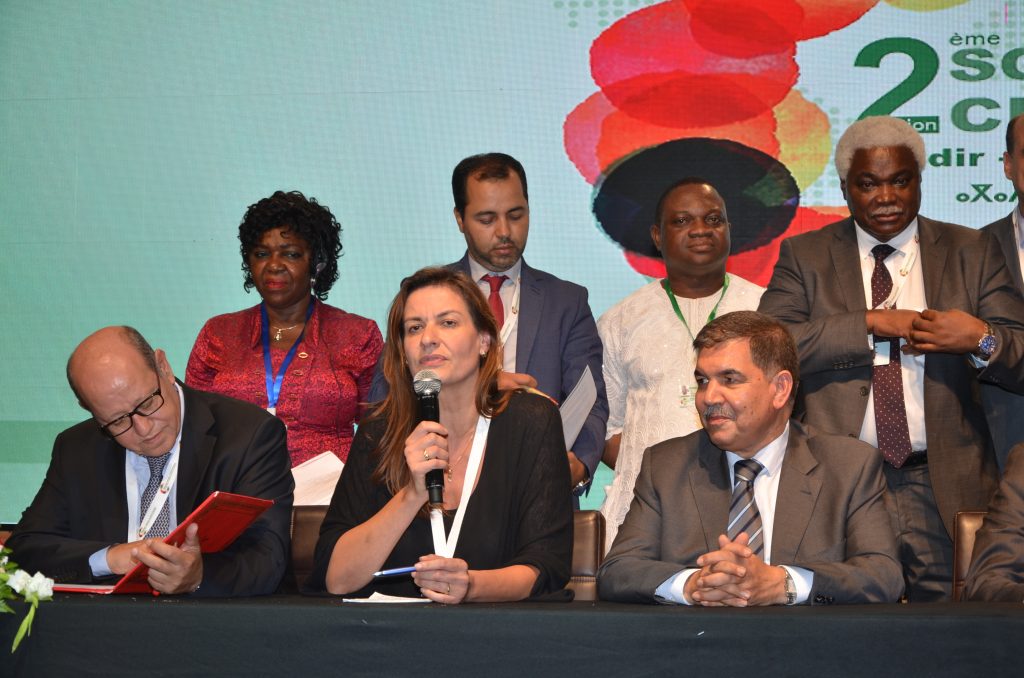 A platform for the African continent and its elected representatives
The second day of the World Summit, Agadir, Tuesday 12 September 2017, was dedicated to African elected officials and the management of cities. The main plenary on « African cities facing the Climate challenges » saw the participation of researchers specialized in african cities and climate, local authorities from all Africa, of active NGOs in the continent as well as economic operators. The speakers agreed on the fact that african cities are confronted everyday with the effets of climate change which exacerbate already sensitive issues and, as a result, have more and more need to apprehend climate stakes and answer environmental and socio-economic challenges.
The day finished with a closing signing ceremony of the Declaration of Local and Subnational leaders of the African continent in the presence of their peers from Europe and from around the world. « This declaration lays the groundwork for African and international cooperation to increase the cities' ability to adapt and mitigate their greenhouse gas emissions. Specifies Awatif Berdai, President of the Organizing Committee of the Summit of the Elected during the COP 22. She recalls that « Marrakech had hosted, during the COP 22, the Summit of the Elected which gathered 1000 Mayors and Presidents of region, which has allowed to put elected officials at the heart of the climate issue and to develop, together, a Moroccan vision that has become African, and which has been strengthened through climate initiatives under the Covenant of Mayors. »
Download the document
A second wave of signatures in Abidjan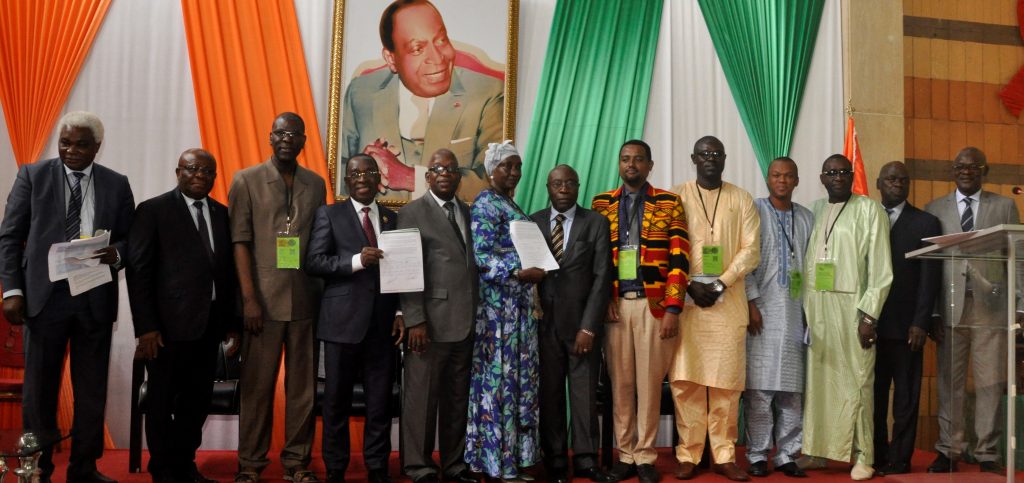 The importance of local civil societies involvement by local governments was at the center of the Climate Chance Summit – Africa debates. Thereby, KANYIKE Sarah Sebaggala, Kampala deputy mayor declared during the plenary "I have involved my city because we have to fight together as one african family. We need the youth, the NGOs, the women, and everyone else, to win this fight."
To embody this engagement, 9 local representatives from Senegal, Ouganda, Ivory Coast, Ethiopia, Burkina Faso and Togo have signed the Declaration of the Local and Subnational African leader "Fighting Climate Change in Africa together".
Thus, the summit in Abidjan helped strengthen this dynamic by involving new local collectivities.
And just a few days after, the Mayor of Chefchaouen also decided to sign this Declaration.
New signatories in 2018 :
Mrs KANYIKE Sarah Sebaggala, Deputy Mayor of Kampala, Ouganda
Mr LOGLO Kossi Amétowoyona, Mayor of Tsévié, Togo
Mr THIMBO Abdoulaye, Mayor of Pikine, Senegal
Mr ABI Koffi Richmond, President of the Regional Council of  Marahoué, Ivory Coast
Mr AKA Aouélé, President of the Regional Council of  Sud Comoé and President of the Association of Regions and Districts of Ivory Coast
Mr KOSSONOU Kouassi Ignace, President of the Regional Council of  Gontougo, Ivory Coast, and General Secretary of the Association of Regions and Districts of Ivory Coast
Mr EZO Emako, Mayor of Arba Minch, Ethiopia
Mr TANO Guillaume, Vice President of the Regional Council of  Moronou, Ivory Coast
Mr KANGA N'Guessan Michel, Vice President of the Regional Council of  Indénié-Djuablin, Ivory Coast
Mr SEFIANI Mohamed, Mayor of Chefchaouen, Maroc
Mr de ARAUJO Manuel, Mayor of Quelimane, Mozambique
Mr Hicham Afif, Mayor of Sidi Badhaj cercle Amizmiz, Province of Haouz, Maroc
Downlad the document