One Planet Summit 2017
Paris, France
Focused on the issues of financial mobilization, the One Planet Summit was an opportunity for non-state actors to put forward their main proposals on access to climate finance. Based in particular on the Roadmap of the Finance Coalition launched at the 2016 Climate Chance Summit, this event was able to consolidate 13 priority proposals from non-state actors for effective investments that strengthen the action in the long term.
Access to
Climate Finance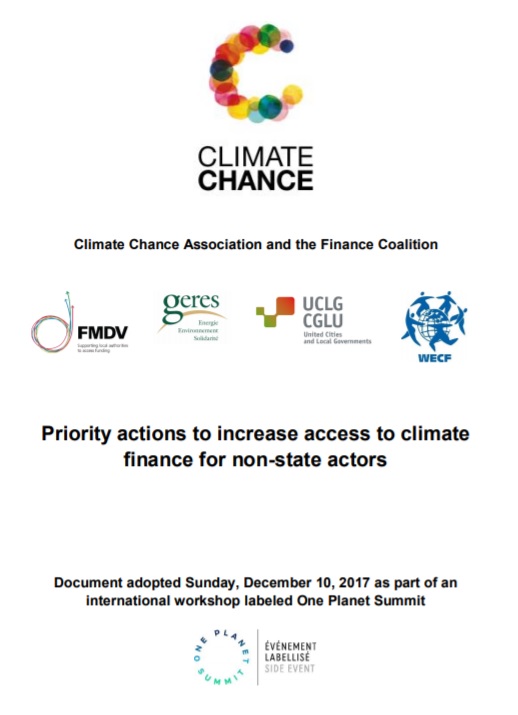 Gathered on December 10, 2017 in Paris for a last workshop to finalise the priority proposals to facilitate their access to finance, non-state actors federated around the Climate Chance dynamic finished by consensus 13 proposals on the creation of an enabling environment, improvement of financial mechanisms, priorisation of the areas of intervention and the need of an assesment of the financial mobilization.
This document builds on the work of the Finance coalition created at the summit "Climate and territories" in 2015, hosted by the FMDV (Global Fund towns), UCLG (United Cities and Local Governments), GERES (Renewable Energy , Environment and Solidarities) and WECF (Women's Engage for a Common Future).

The collective work that took place during these workshops resulted in the document of the 13 priority actions to increase access to climate finance for Non State Actors. This document was presented before the One Planet Summit at a dedicated press conference, and it was sent to the President of the French Republic Emmanuel Macron as well as donors and international funds.
Réunis le 10 décembre 2017 à Paris pour un dernier atelier de finalisation des propositions prioritaires pour faciliter leur accès aux financements, les acteurs non-étatiques fédérés dans la démarche Climate Chance ont arrêté par consensus 13 propositions autour de la création d'un environnement favorable, de l'amélioration des mécanismes financiers, des secteurs d'intervention à prioriser et des enjeux d'évaluation de la mobilisation financière.
Download the document
Photos