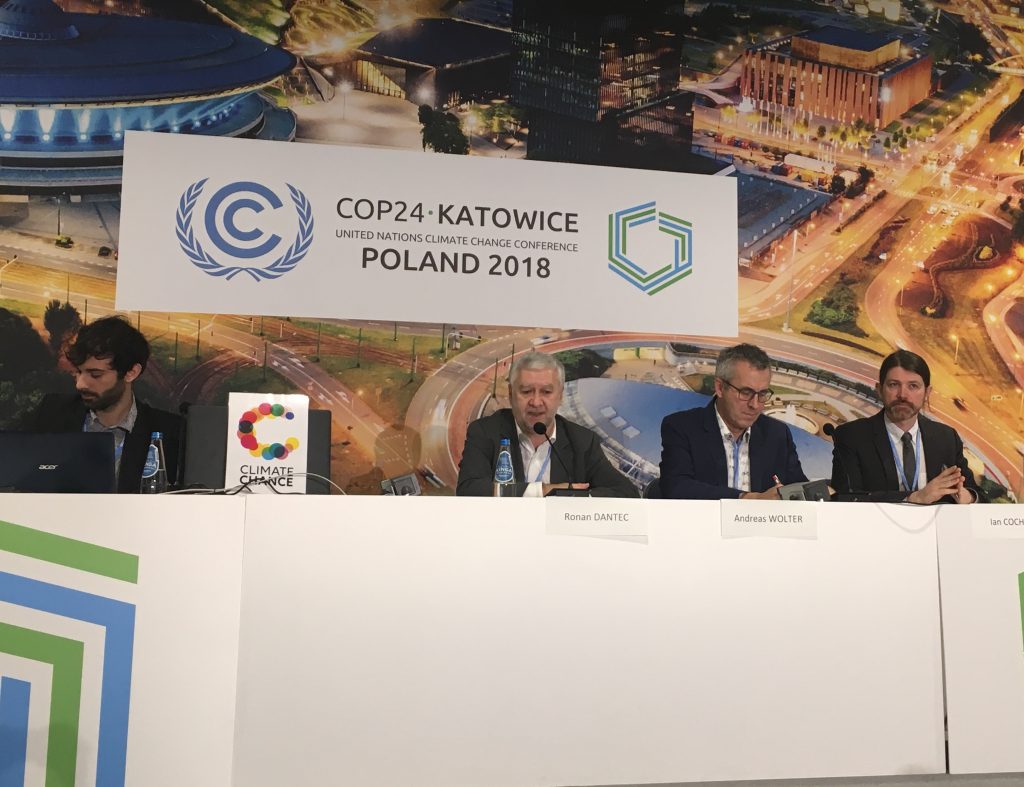 08/12, noon: Press conference : Report of the Global Observatory on Non-State Climate Action, Climate Chance
At COP24, Climate Chance presented the first Report of its Global Observatory on Non-State Climate Action to the accredited media.
Press conference at COP24 to present the Report of the Global Observatory on Non-State Climate Action : 08/12, noon, Room Katowice (area F)
Saturday 8 December, noon, Area F – Théâtre, Climate Chance presented the first Report of its Global Observatory on Non-State Climate Action.
Speakers :
Live webcast :
Overview of the report
This report is part of the urgent need to immediately strengthen climate action to limit impacts. Although the commitments are multiplied, the evaluation of the work done is still limited and sector-focused. We are convinced that if we do not highlight successes and difficulties of the actions taken, we will fail to multiply them and to remove the obstacles and inertia that prevent us to live up to the challenge.

Unique in its importance, this report, availaible both in French and English, highlights the impressive swarm of initiatives around the world. It crosses public policies and non-state actions within the main emission sectors (Book 1), focuses specifically on territorial action (Book 2) and new financial tools (Book 3, in partnership with Finance for Tomorrow). It is based on available data and studies in order to better understand recent trends in greenhouse gas emissions, which is a necessary step if we want to give credibility to scenarios of stabilization of climate.
The Observatory's report: What is it?
 An original work of synthesis, the most comprehensive analysis report on effective climate action, based on the most recent studies. It is a « meta-report », so it does not produce any data or analysis, but seeks to synthesize existing data to analyse highlighted trends, readable beyond highly specialized circles.
The only report of this importance to be published in both English and French.
A narrative allowing a quantitative and qualitative understanding of the evolution of greenhouse gas emissions, by crossing national policies and initiatives of non-state actors. This report aims to determine where the most interesting dynamics are: impact of national legislation, territorial public policies, business innovations, mobilizations of civil society…
A scalable toolbox to inspire national and local policy makers, both public and private. Together with « Climate Chance » Portal of Action, this report aspires to contribute to disseminating of the multitude of good practices (experience and knowledge), as increasing climate action requires easy and educational access to information.
A widely disseminated report among networks of non-state actors and government as well as international decision-makers. It will be exclusively available online and it will be possible for the reader to download it piece by piece, according to the themes and geographical areas that interest him.
The report is divided into 3 books:
Book 1 : « Sector-based Action » : a compilation of 23 sheets providing summary analyses of major sectors of emissions, at the global or country level, identifying the dynamics at stake, and highlight the remarkable initiatives taken by non-state actors around the world.
Book 2 : « Mobilisation of the local and subnational governements » : An insight on climate action put into practice by local governments initiatives and networks worldwide, providing with a review of the different methodologies applied (Section 1), cities and regions case studies (Section 2), and 80 illustrations around the world of local climate public policies (Section 3).
Book 3 : « Bringing finance on board – Report on Non-State Climate Action in the financial sector » in partnership with Finance for Tomorrow, describes climate action at global scale of the three core businesses of finance industry – investment, bank and insurance – and recounts the boom of financial products and services contributing to low-carbon transition. It also brings up the new approaches of financial regulators to steer capital flows and abate the risks linked to climate change in the financial sector.
Press contact:
Bérengère Batiot : +33 6 87 43 39 29 | berengere.batiot@climate-chance.org