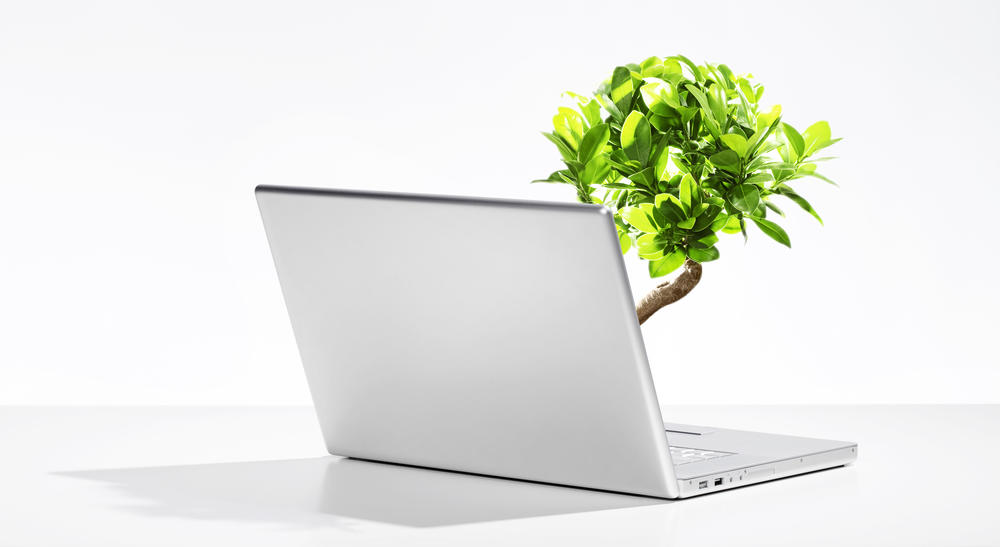 Has Covid accelerated or hampered climate strategies ? Climate Chance Talk #1
On the occasion of the release of its Global Synthesis Report on Climate Action by Sector on 1 December, Climate Chance launched the #ClimateChanceTalks, a series of debates aimed at highlighting the main lessons of this Report. The introductory session brought together high-profile speakers, to be discovered below.
For its opening session on 1 December (which is available here), Climate Chance brought together a panel of speakers who are experts in climate action. The session was introduced by Ronan Dantec, president of the Climate Chance Association, climate spokesperson of UCLG and CEMR and senator of Loire-Atlantique (France). The talk was opened by Laurence Tubiana, director of the European Climate Foundation, and concluded by Teresa Ribera, minister for Ecological Transition of Spain.
More than 150 people attended the exchanges between our speakers: Johan Ransquin from the French Agency for Ecological Transition (ADEME); Gilles Vermot Desroches from SCHNEIDER ELECTRIC; Henri Waisman from IDDRI; Steven Heddle from COSLA and Anne Barre from WECF. They debated during a round table, moderated by Juliette Nouelle, journalist and trainer at the Fresque du Climat, around the following question:
Has Covid accelerated or hampered climate strategies?
An update on global climate trends in 2020
This opening session focused on the global trends.
Five key cross-cutting points were presented, drawn from our Global Synthesis Report on Climate Action by Sector.
CONSULT HERE THE REPORT
The

Covid-19 pandemic

had a strong impact on climate action,

accelerating some positive trends

and

weakening some encouraging trends

of recent years.

The

energy sector

is being restructured, and some European majors are

accelerating their investments in renewable energies

.

Soft mobility is exploding

, mainly driven by

local authorities

.

Citizens are mobilising

, and no longer hesitate to take legal action against governments or companies to force them to act against climate change.

The

decline in certain key socio-economic indicators

(poverty, reforestation…) threatens climate action.
What our climate experts have to say
During her opening speech, Laurence Tubiana, director of the European Climate Foundation, notes that despite a fragile and timid climate action in recent years, 2020 has seen many state and non-state actors committing to carbon neutrality. The real economy must now accompany this movement and put pressure on States to make even stronger commitments.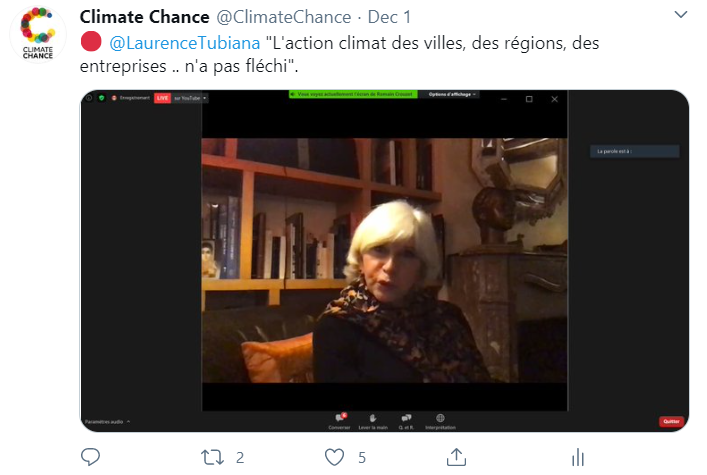 Johan Ransquin (Ademe) emphasised the fragility of economic actors due to the economic and health crisis. This could slow down « green » investments, but the recovery could also be an opportunity to change practices.
According to Gilles Vermot-Desroches (Schneider Electric), the crisis is a major turning point in the use of digital technology within companies. It also allows a reflection on the relocation of activities and leads to a boom in the climate commitments from major groups. In the coming years, companies have two major challenges: to get their suppliers to commit to carbon neutrality and to promote climate and environmental commitments in their products.
For Steven Heddle (COSLA), the pandemic shows the essential role of local authorities in the fight against climate change and in the resilience of communities. Greater cooperation between the different levels of decision-making will be essential to organise climate action in the coming years.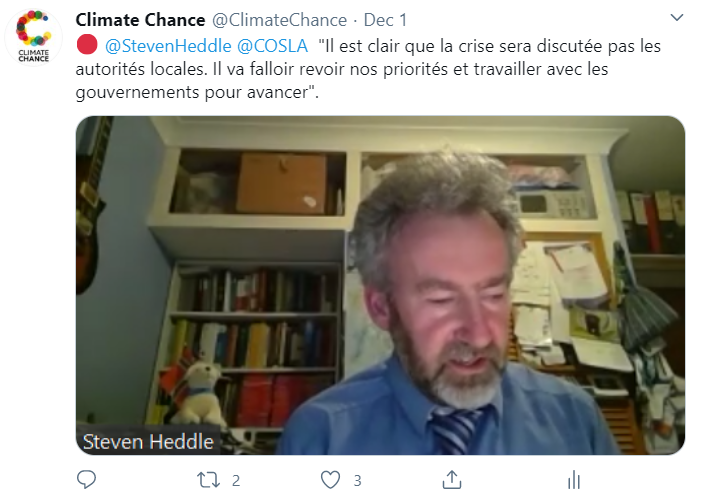 Anne Barre (WECF) highlighted how gender inequalities were accentuated during the pandemic, but the pandemic also led to many solidarity initiatives by women's organisations. She regrets that the post-Covid recovery plans only concern the formal economy. The informal economy, in which women are predominantly invested and which represents a huge part of activity in developing countries, is essential in the fight against climate change and should therefore be more integrated into state climate policies.
Henri Waisman (IDDRI) retains 4 ideas after reading the Climate Chance Synthesis Report:
The Covid-19 crisis makes it possible to distinguish between robust transition trends, which have not been impacted, and fragile trends, which have been impacted or even reversed. 
The Covid-19 crisis reveals the fragility of economic models that rely on fossil fuels, and therefore the need to get out of it quickly. 
Non-state actors have a key role to play in the transition, and there is a need to coordinate actions between the different levels of actors to achieve a coherent whole, rather than a multitude of isolated actions. 
The crisis reveals the strong interdependence between the Sustainable Development Goals and climate objectives.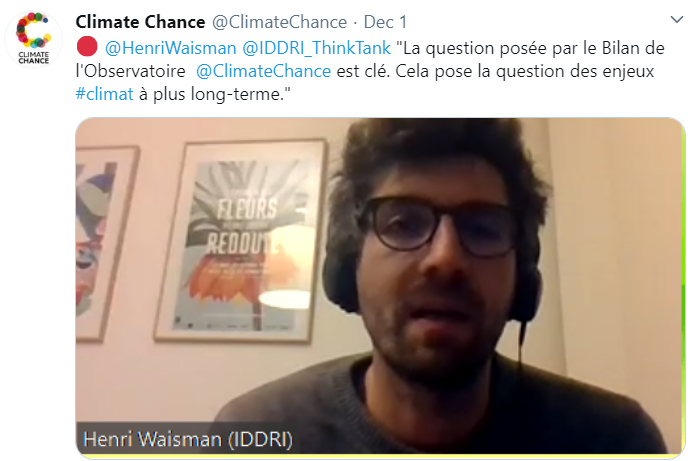 In conclusion, Teresa Ribera (Minister for Ecological Transition, Spain) stressed the importance of non-state actors in the fight against climate change, and of regular stock-take of the actions carried out, to see what works and what does not, as the Climate Chance Observatory does.