Côte d'Ivoire • The necessary development of sustainable transport in Côte d'Ivoire
Enjoying a thriving economy, Côte d'Ivoire is in the grip of rapid urbanization coupled with escalating car ownership and informal transportation.This overview presents current initiatives to modernize mobility in Côte d'Ivoire in order to meet the country's increasing demand, climate goals, as well as road safety and health requirements.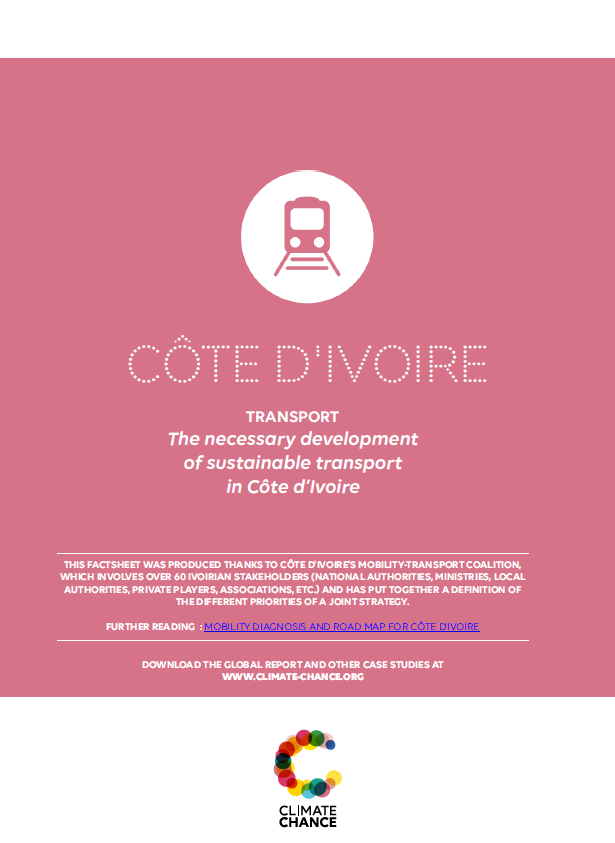 Aristide Wouomon GAHIE • Consultant
Contents
1. Rising transport emissions generated by a growing economy
2. Flaws in the urban transport system
Urban transport dominated by the informal sector
Significant negative externalities of informal transport
Considerable traffic involving private sector
3. Changes underway in the urban transport sector
Regulator and financial tools
Development of mass urban transportation
Emergence of less-polluting energy solutions
4. Action by local authorities and civil society organizations
Key Takeaways
• Côte d'Ivoire's breakneck growth since 2012 has boosted the ownership of private cars more than the development of public transport.
• Adverse traffic conditions in Abidjan penalize official operators, which are losing market shares. Informal transport solutions like wôrôs-wôrôs and gbâkâs are more flexible and better matched to meet the growing demand for mobility generated by urbanization, despite being involved in more road accidents.
• The Ivoirian government has adopted ambitious urban mobility planning tools and a policy regulating the age of imported second-hand vehicles as a response to the country's fleet of outdated, polluting vehicles.
• While 40% to 60% of journeys are still made by foot in built-up areas like Abidjan, the increased levels of motorization make the development of mass transport lines like the East-West BRT and line 1 of the Abidjan subway the most effective option to organize transport development.
• NGOs and Ivoirian activists are at the forefront of the soft mobility movement, calling for the development of underused transport options, like cycling.