France • Climate multi-level governance
The Climate Chance Observatory decrypts the national frameworks available to local authorities for the formulation, implementation and monitoring of their climate plans, and observes how local, regional and national climate policies are articulated in the G20 countries. Here is the case study on France.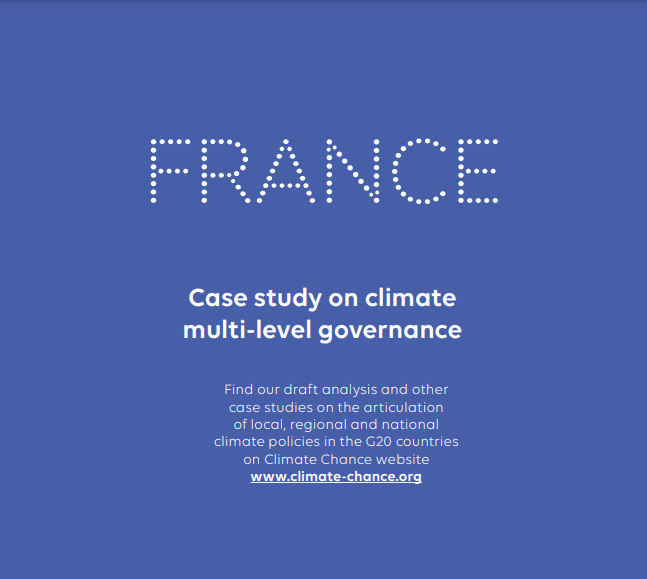 Introduction
France is historically a highly centralized state, which has been decentralizing its competencies in favor of local authorities since the 1980s. The decentralization Laws of 2014, the law on the modernization of territorial public action and the affirmation of metropolises and of 2015, the Law on the new territorial organization of the Republic, have specified the new competencies of French local authorities by reinforcing two levels, the Intercommunities, which group together the municipalities in a public establishment with its own tax system with several compulsory competencies by transferring them from the municipalities, and the regions. Competences related to the ecological transition are particularly concerned, with an organization based on the region-Intercommunality couple.
Summary
Distribution of competences between levels of governance
Evolution of the National framework for Local Climate-Energy Planning
Monitoring of Municipalities and Regions engaged in a Planning initiative
Interface between the different levels of governance
Financing systems for Local Authorities
Further Information
Extracts
Local authorities are the leading public investor. In 2015, they accounted for nearly 70% of civil public investment (French Government, 2018).
A 2019 evaluation by the National Low-carbon Strategy lists the national and local planning tools that have an impact on greenhouse gas emissions, and how they interconnect. The different planning documents that have an incidence on GHG emissions also correspond to very precise requirements in terms of their accountability and their consideration of, or by, national plans
French local authorities are much more involved in implementing initiatives formulated at national level than they are in international voluntary schemes. The Covenant of Mayors is more likely to be adopted by municipalities with less than 20,000 inhabitants that are not required to formulate a climate plan.
A "territorial ecology" working group is tasked by the State, in conjunction with associations of local elected representatives, with proposing a mechanism for integrating the guidelines of the regional plans into the future revision of the national low-carbon strategy and, conversely, ensuring that national indicators are taken into account in the monitoring of regional plans.
Lastly, France is unusual in that it has its own environment and energy management agency (ADEME), under the supervision of the state. The agency generates, leads, coordinates, facilitates and carries out operations to protect the environment and manage energy, with an annual budget of over 600 million euros.
Read our draft analysis and other case studies on multi-level climate governance in G20 countries here.