Morocco • Moroccan society's uneven response to the proliferation of waste
Located in a key Mediterranean position marked by pollution and escalating waste, Morocco has nevertheless had difficulties seeing through its first commitments, made ten years ago, to organize waste collection and treatment systems. As the volume of waste produced continues to rise, what are the ways to align the scattered efforts ?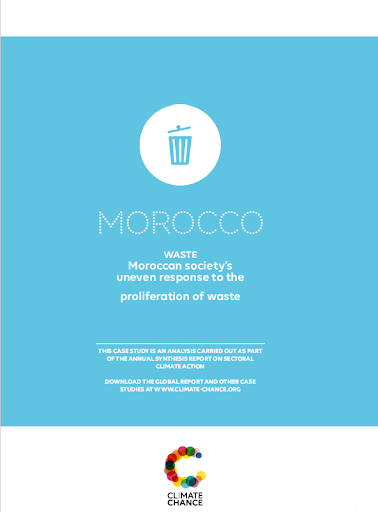 The Climate Chance Observatory team
Contents
1. Waste in morocco, a key emission sector made into a "national priority"
2. Governing climate, managing waste: an ambitious national framework with uneven progress
3. Organizing collection, managing treatment: increasing responsibility for local areas
Patchy waste management planning despite increased decentralization
Professionalizing collection, modernizing treatment: local authorities making progress with the waste hierarchy
4. Private sector both an operational driver of local treatment and a hindrance to national legislation
Structured private sector to strengthen local treatment capacities
Circular economy triggering flourishing entrepreneurship
Organizing a contribution from companies: epr still undeveloped, ecotaxes in debate
5. Demanding civil society wielding increasing weight in waste policies
Civil society faced with local waste problems
Projects bringing local solutions with support from regional stakeholders
A step towards jointly constructed public policies?
Key takeaways
The last decade or so has seen Morocco produce considerable institutional legislation to regulate and drive the improvement of waste collection and treatment systems in line with its environmental and climate ambitions. Yet despite the move towards decentralization that began in 2011, the policy governance framework still lacks efficiency.
Moroccan cities have made notable operational progress in the collection chain, in spite of weak planning capacities in the regions, provinces and prefectures (17 plans completed out of 67 launched). 25 disposal and conversion centres have been created since 2008.
In the "sorting-recycling-recovery" industry, the priority is on professionalizing collection and reducing landfill volumes. Energy recovery from waste using anaerobic digestion (Kenitra, Fes, Oum, Azza), incineration and conversion into refusederived
fuel (RDF) is advancing at the cost of stagnating recycling performance (currently 6% for a target of 20% in 2030).
The private sector is an essential component of the measure aimed at improving waste treatment, through contracts delegating the management of sanitary services and landfill. Major companies (Suez, Lafarge) are investing massively in this sector in Morocco,
and an SME ecosystem is developing to come up with local solutions, often initiated by young entrepreneurs.
Due to its focus on social problems and pollution from illegal dumping, Morocco is struggling to instil a recycling, energy-saving approach in order to stem waste production at source, illustrated by its difficulties in applying the Zero Mika law.
Lastly, civil society is widely taking up the issue, playing either the role of whistle blower (ZeroZbel against plastic, an environmental protection collective against the Médiouna landfill), or playing an action coalition card to put forward ideas (AESVT, AMCDD).