Norway • The progressive electrification of land and maritime transport
Accounting for over 29 % of Norway's overall CO2 emissions, transport-related emissions have fallen sharply since 2012. This trend is mainly due to the fact all stakeholders made significant efforts to progressively electrify both the vehicle fleet and maritime transport .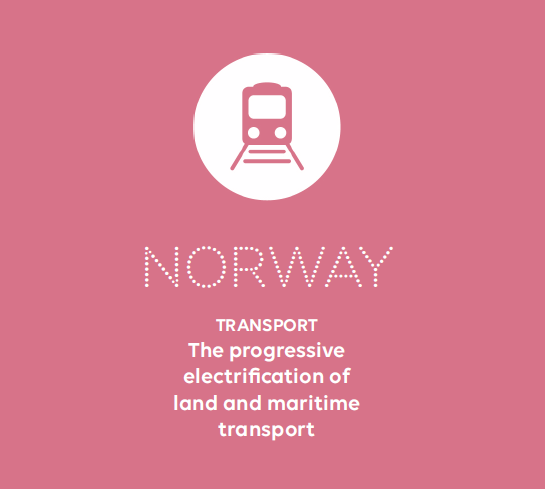 Guillaume Simonet • Consultant and independent researcher, Abstraction Services
Contents
Electrification of the vehicle fleet, propelling the reduction of emissions
A generous and stable incentive policy at all levels of governance
The all-electric strategy sought by stakeholders from maritime, air and land transport sectors
Norwegian cities implementing decarbonation and changes in use
Key takeaways
Norway witnessed a decline in its transport CO2 emissions, decreasing by 11.4 % between 2012 and 2018, yet national CO2 emissions remain relatively stable.
This decrease is mostly due to the decarbonation of the vehicle fleet even with the rise in demand for transport. Norway is now the world's third largest market for electric and hybrid vehicles.
The national incentive policies target demand more than supply to boost sales. Electrifying the vehicle fleet still depends on the production capacity of manufacturers and on the large-scale development of infrastructure for charging stations.
The increasing urbanisation of the Norwegian population, as well as the multi-level consultation tools (Urban Environment Agreements) and the public expenditure orientation of the National Transport Plan (NTP) make cities the driving forces for the development of public and low-impact transport. Oslo, where in 2016 there were more trips by public transit than by car, is a leading figure.
Pressured by local communities, the Norwegian parliament initiated the decarbonation of the fleets circulating in the UNESCO-listed fjords. In line with stricter regulations, the Confederation of Norwegian Enterprises has taken the lead in the electrification of ferries and is extending its efforts against air pollution (NOx) to subsequent GHG emissions.