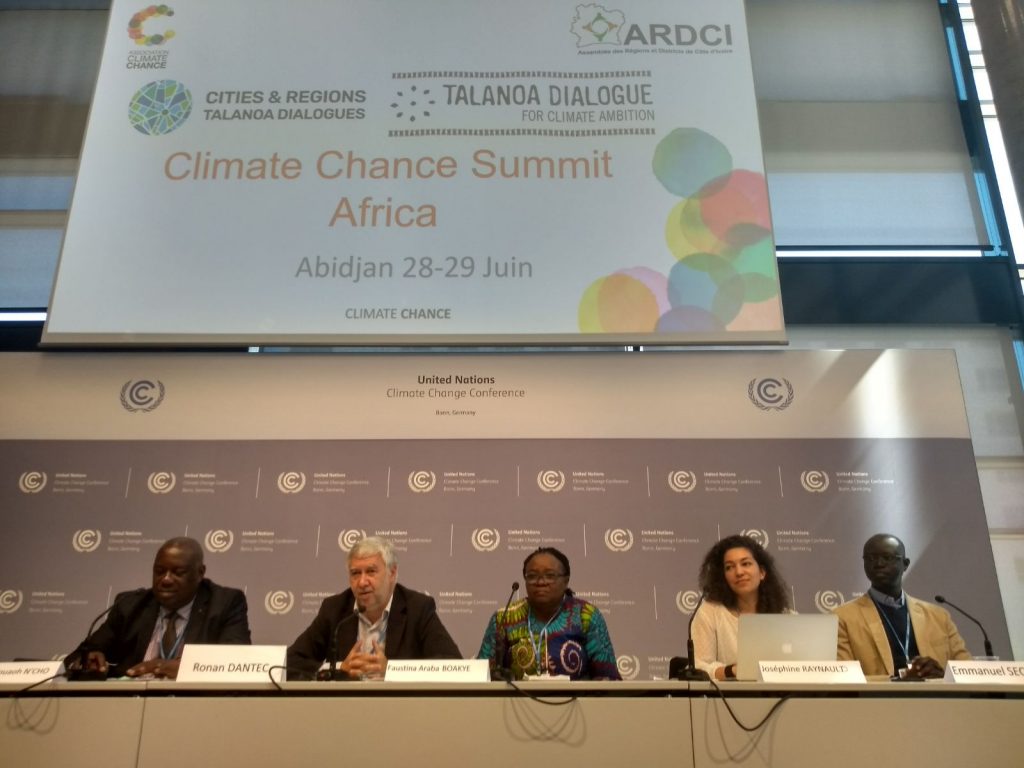 Follow Climate Chance during the Intersessionals of Bonn
Climate Chance will be present during the intersessionals of Bonn which will take place between the 17th and the 27th of June
A Press Conference to announce the opening of registrations for the Climate Chance Summit – Africa
The Climate Chance Association and the National Association of Local Authorities of Ghana (NALAG) have the pleasure to invite you to the press conference that will open the subscriptions to the Climate Chance Summit – Africa. The Summit is under the auspices of the Ministry of Local Government and Rural Development of Ghana.
Speakers :
Senator Ronan Dantec, President of The Climate Chance Association and UCLG spokesperson on climate
Honorable Felix Mensah Nii Anang-La, Mayor of Tema, President of NALAG, Ghana
Mr. Kyekyeku Yaw Oppong-Boadi, UNFCCC Focal point for Ghana
Jean-Pierre Elong Mbassi, Secretary General of UCLG-A
Kenneth Amoateng, Abibiman Foundation, Ghana
Anne Barre, WECF
Practical information :
June 19, 12am
Romm NAIROBI 4, located in the World Conference Center Bonn
For more information :
Organization of a Strategic Orientation Committee
In order to better prepare the forthcoming work of the 2019 second semester, Climate Chance invites all intersessionals attendees to participate to the next Strategic Orientation Committee of the Climate Chance Association, Wednesday June 19, from 4pm to 6pm, at ICLEI World Secretariat, in Bonn.
Agenda :
Climate Chance programs in Africa: presentation and discussion on the program of the Climate Chance Africa Summit 2019 in Accra – Ghana and next steps for the African Thematic Coalitions.
Advocacy of Non-State Actors on Climate: Discussion of the interest and content of a joint Declaration to Non-State Actors for the United Nations Summit, September 2019 in New York.
Climate Chance Observatory: presentation of the main lines of the 2019 report and discussion on the presentation of this report at the end of November in Paris, before the Finance Day.
Practical information:
Wednesday June 19 from 4pm to 6pm.
Please contact the Programs Manager, Romain Crouzet, for more information : romain.crouzet@climate-chance.org
Please register before June 17, following this link.