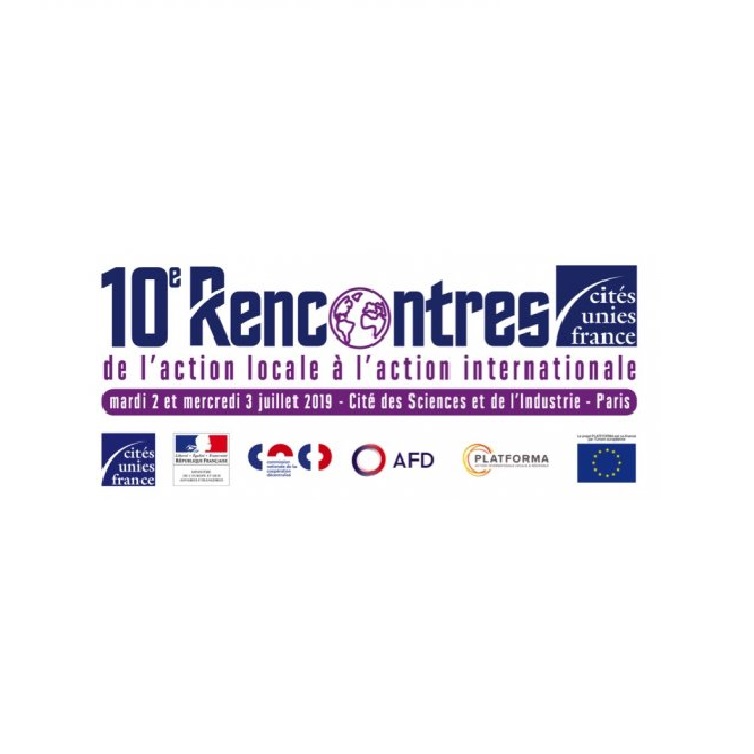 Local governments' international action encounters
On Tuesday the 2nd and Wednesday the 3rd of July, "Cités Unies France" and its partners organised th 10th Edition of the Encounters on for the internationalisation of local authorities. ("Rencontres de l'internationalisation des collectivités territoriales")
Conference « What solutions do communities bring to energy and climate innovation in Africa?»
Context:
It is a well-known fact that local authorities are at the forefront of climate change and sustainability issues within their development models. In terms of  energy, some African local governments have committed to reducing their dependency on fossil fuels within key sectors (with or without the support of incentive national frameworks): transport, electricity generation and building.
At a time when achieving the goals of the Paris Agreement especially on climate action and the SDG 7 on access to clean and affordable energy, all depend on the investment decisions of the next 5 to 10 years:
 Other than levers of public control, how can local governments influence norms and standards to reduce the growth of energy consumption within communities? Do these solutions help to reduce energy poverty in households? What are the key success factors for deploying these solutions at the local level in Africa?
How can decentralised cooperation contribute to this necessary huge effort? How to promote the scaling up of solutions, whether technical, organisational or financial (1% energy mechanism)?
How can an energy project help a local government or region adapt to climate change?
Co-presidency : 
Ronan Dantec, President of Climate Chance Association, Senator of Loire-Atlantique region
African local government representative
Conference conducted by :
Climate Chance Association: Romain Crouzet, Head of Programmes
Cités Unies France : Constance Koukoui, head of the geographic and thematic animation service
Speakers :
– 1 African metropol
– 1 secondary African town : Kossi Bruno Loglo, Mayor of Tsévié (to be confirmed)
Elaboration of the climate and energy action plan in collaboration with civil society (university and NGOs)
– French local authority representative: Sylvain Davila, Task officer for the Europe-International Cooperation delegation in Nouvelle-Aquitaine Region
Experience feedback from the So'Fas project with the Central Region since the implementation of the Local Climate Energy Plan (« PCET ») in 2014, until recent stages of the project on the strenthening of accessibility to renewable energies in rural areas.
– 1 business (TBC)
– 1 invenstment fund (TBC) or support organisation
– An institutional partner : Christine Moro, Ambassador, Delegate for the external action of local authorities, Secretary General of the National Commission for Decentralized Cooperation
Useful information
Wednesday 3rd July 2019 from 11:00 to 12:30pm.
Micro-workshop – Developing a method for analyzing the climate impact of decentralized cooperation projects
The Observatory, as it does not intend to create knowledge but to synthesize existing knowledge, proposes to focus on feedback from partners involved in the management of decentralized cooperation projects, in particular the Directorate of External Affairs of Territorial Communities (DAECT) and the National Commission for Decentralized Cooperation (CNCD), as well as United Cities France (CUF) and Platforma.
The Observatory offered to carry out a field survey by elaborating and sending a questionnaire to decentralized cooperation project managers within French local authorities, even some foreign ones. It is therefore only from the existing means of analysis and the collected data that the Observatory will be able to make a diagnosis on the handling of these climate impact indicators by stakeholders in decentralized cooperation projects within the framework of their monitoring and evaluation activities.
Useful information
Wednesday 3rd July 2019 – 5pm
Room A