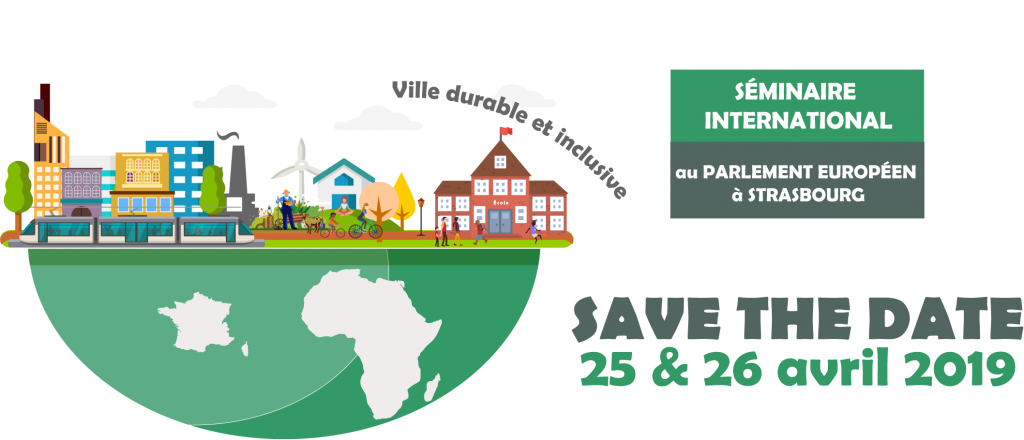 25th – 26th April : Climate Chance participated in the International Seminar : "In Africa and in France, building sustainable and inclusive cities of tomorrow, together"
This event organised by Strasbourg and GESCOD and supported by AFD, took place at the European Parliament from 25-26th A 2019, and aimed to expand discussions on decentralised cooperation between French and African partners. Climate Chance presented works from the Alliance of African Actors for sustainable urban planning.
Description of the Event
25 & 26th of April 2019, at the European Parlement in Strasbourg. A seminar co-organised by Strasbourg and GESCOD, supported by AFD (French Agency for Development).
« A key to achieving the ecological transformation of our planet will be cooperation, the alliance of French and African local authorities close to their populations. The seminar is Strasbourg aims to develop this discussion between French and African stakeholders on new sustainable urban development models. » Mr Roland RIES, Mayor of Strasbourg
In regards to the 2020 Africa-France which will be completely devoted to sustainable cities and round-tables will enable participants to expand discussions on decentrailisation cooperation between French and African partners.
Workshops offer innovative ways to face urban development issues in France and East Africa, they will focus on three topics :
Urban Agriculture : at the heart of sustainable cities
Green urban areas, quality of life/the city
Sustainable cities, a city that teaches and learns
This seminar will bring together a panel of a un panel speakers from various backgrounds: State and local authorities, European institutions, non-governmental organisationss, civil society, businesses, funders, experts, researchers…
With the exceptional presence of a delegation of the Urban Authority of Kampala as well as the Mayor of Kampala, Mr Erias LUKWAGO
Presentation by Climate Chance of the Alliance of African Sustainable urban planning actors' work
After the Climate Chance summit – Africa in 2018 in Abidjan, Climate Chance delegated the created of the Alliance of African Sustainable urban planning actors, bringing together major stakeheolders in urban planning in order to define an strategic vision adapted to African issues.
Coline Desplantes will participate in the name of Climate Chance during the seminar at the European Parlement and will present the ongoing work within the Alliance.
Why this alliance?
In a context with rising levels of demography, urbanisation and climate change, African cities must anticipate their needs in terms of infrastructure for adaptation. Land use planning has an impact on the distribution of activities and housing in urban areas and determines the residents way of life, consumption habits, transport choices and therefore their participation in global warming.
Urban planning is an opportunity to stimulate a socially acceptable transition but also, to limit some areas' vulnerability, heat islands and greenhouse gas emissions thanks to the installation of adapted architecture.
Architects & urban planners therefore play a central role in energy and ecological transition. They are also the driving forces behind adaptation and mitigation of all areas, on all levels.
Why and African Alliance?
In order to find answers to the problems of African cities, it's essential to find the right diagnostic. Sustainable cities must be well adapted to local areas meaning that European views on urban planning cannot be exported to Africa. Local experts must have their say.
The Alliance of African stakeholders enables to improve visibility for African urban planner who are sometimes put to one side facing international stakeholders. The aim is to enhance African actors' central role in the fight against climate change.
Finally, targeting these African actors for the creation of the alliance means that similar initiatives will not be copied.
What action is awaited?
To work on a common frame of reference on sustainable urban planning ( « eco-city » by Zenata). This will help harmonize the idea of « Sustainable urban planning » and will seek to establish a strategy and common recommendations. This document will, on top on the fact it improves the quality of urban life, strengthen and enhance the role of urban planners in the mitigation and adaptation of African cities facing the impacts of climate change.
These important and legitimate stakeholders will be able to implement advocacy activities in regards to States in order to help male them take into account this frame of reference.
This group will become the  « catalyst of good practices » and will disseminate them across the African continent.