Canada • Multi-level climate governance
The Climate Chance Observatory in collaboration with ESSA has analyzed the political articulations of climate actions on a local, regional, and national scale in the G20 countries. You will find below the case study on Canada.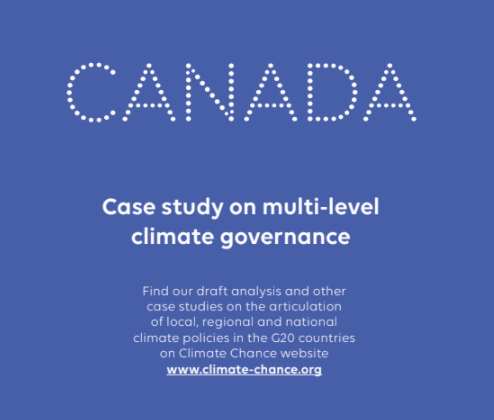 Jimena Eyzaguirre • Andrew Thompson • Caitlin Semmes • ESSAJimena Eyzaguirre • Andrew Thompson • Caitlin Semmes • ESSA
Introduction
Canada is one of the world's most decentralized nations. As such, the responsibility for mandating and tracking local government climate actions falls to the provinces/territories. In the absence of provincial/territorial requirements, many local governments developed climate plans in the 1990s and 2000s with the support of non-governmental organizations. The 2016 Pan-Canadian Framework on Clean Growth and Climate Change established a baseline carbon price and greenhouse gas emissions reduction targets, outlining shared actions to advance across federal, provincial and territorial governments. Local governments must abide by provincial / territorial regulations which differ in scope, approach, and reporting requirements.
Contents
Distribution of Climate Chance competencies
Legislative and regulatory drivers of local government climate action (planning, implementation and monitoring)
– Historical Perspective (2000-2015)
– Historical Perspective (2016)
– Monitoring of Climate-Energy planning
Cross-scale governance of climate policy
– Linkages between local governments and provinces/territories
– Linkages between local governments, provinces/territories, and federal government
Finance for local governments to pursue climate action
– Own Funding
– Provincial/territorial funding
– Federal government funding
– International funding
Read our project and other case studies on multi-level climate governance in G20 countries here and check out case studies on France and Germany