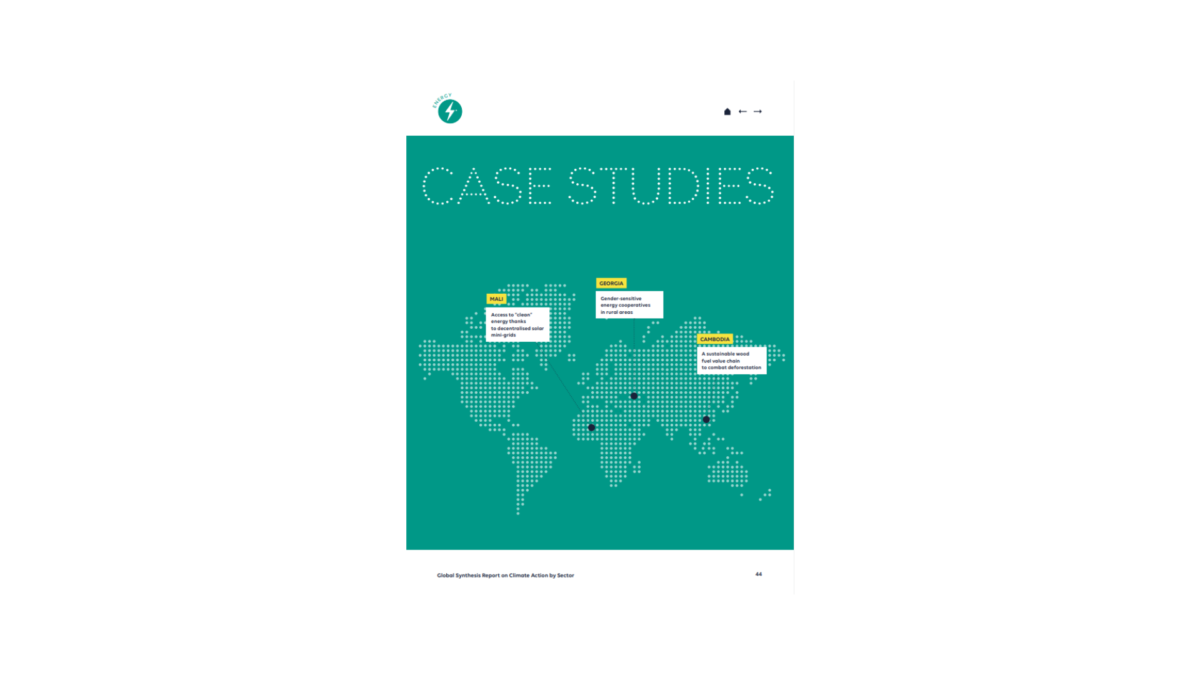 Discover the case studies from the Global Synthesis Report on Climate Action by Sector 2022
Discover in this article the 15 case studies available, to be found in the 2022 Global Synthesis Report by sector 2022.
The Climate Chance Observatory offers 15 new case studies in its latest Global Synthesis Report, covering the 5 major emission sectors analyzed in the 2022 edition: energy, transport, building, waste and land use.
The goal? Highlight remarkable initiatives at the level of countries, regions or cities, which make it possible to identify the most effective tools to move towards a low-carbon society.
Some case studies are based on contributions from experts and specialized organizations.
Energy
Georgia : Gender-sensitive energy cooperatives in Georgian rural areas, in partnership with WECF 
Mali : Access to "clean" energy thanks to decentralised solar mini-grids 
Cambodia : A sustainable wood fuel value chain to combat deforestation, in partnership with GERES 
Transportation
Buenos Aires : Leveraging environmental and climate data to promote soft mobility, in partnership with UCLG 
Spain, Barcelona : Sant Antoni, the green street inspiring the city, in partnership with Construction 21 
Zimbabwe : Promoting access to sustainable and electric mobility in rural areas to empower women, in partnership with Movin'On Lab Africa
Building
Austria, Vienna : Phasing out fossil fuels in heating to decarbonise buildings, in partnership with EnergyCities 
Indonesia : Betting on reflective roofs to avoid air conditioning
France, Angers : EnergieSprong, an industrialized zero-energy renovation project, a lever for mass uptake, in partnership with Green Flex 
Waste
Alsace : Towards a made in Europe production of low-carbon lithium with the EuGeLi project 
Kamikatsu : A social project beyond the zero waste objective
São Paulo : A circular food system to reduce organic waste 
Land use
Yaeda Valley : By protecting their land and wildlife, local populations obtain income through the carbon compensation mechanism
Sundarbans : Banking on mangroves for land, life and livelihood 
Durban : Agroecology in the service of the fight against food inequalities