Promoting Renewable Energy Services for Social Development in Sierra Leone (PRESSD-SL)
The initiative aims at improving living conditions and increasing economic revenues for rural poor; enhancing quality of public services (education, health, etc.) by electrification of public infrastructure; existing and sufficient awareness and capacity in respect to renewable energy.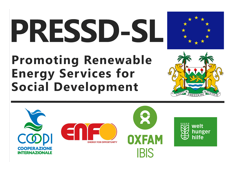 An initiative of Oxfam in Sierra Leone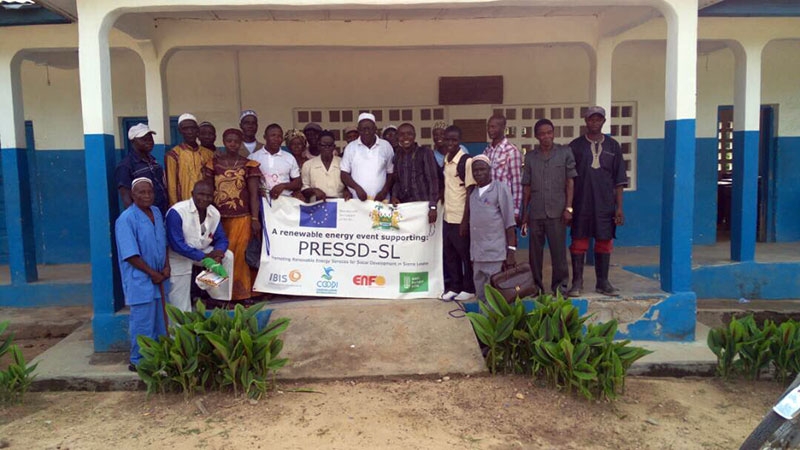 Overview of the project
This project focuses on 3 major results:
1. Improved living conditions and increased economic revenues for rural poor due to access to electric energy;
2. Enhanced quality of public services (education, health, etc.) by electrification of public infrastructure;
3. Existing and sufficient awareness and capacity in respect to renewable energy systems (including low carbon development) in the private and governmental sectors to sustain/ scale up the renewable energy sector in Sierra Leone. It targeted rural families, farmer associations, the Government of Sierra Leone (GoSL), and private sector entrepreneurs, estimating that 850,000 people would in the end benefit from access to renewable energy services.

It focused on the following main activities:
– Installation and operation of energy hubs and community charging stations, including site reviews and design selection and build-up of management structures
– Facilitation of an energy entrepreneur model through social marketing and supply chain management
– Installation and operation of energy systems for Senior/Junior Secondary Schools, hospitals, community health centers and health posts, financial institutions, including site reviews and design selection and buildup of management structures
– Design of localized grid systems (chiefdom level)
– Conduct of training of trainers' courses for key stakeholders in the energy and education sectors
– Expansion of training programmes at Polytechnic Institutes
– Conduct of sector studies regarding energy consumption patterns
– Conduct of sector learning workshops and governance actions
Contribute to poverty alleviation by improving and increasing access to renewable, affordable and sustainable energy services for rural poor in Sierra Leone, focusing on productive use and scale-up effects, while promoting low-carbon development.
Networking, internationalisation
A Minimum of 16,000 households are either directly connected to renewable energy grid or possess solar home systems thereby reducing costs for light by 30%.
850,000 people have access and benefit from renewable energy electrification /production or social infrastructure.
The following are a summary of Key Findings from the project's evaluation:
In Sierra Leone, the overall access to electricity is very low, with the rural areas even worse. Therefore, the PRESSD project was noted to be very relevant to the target beneficiaries. It was found that the solar PV systems were installed in communities were electricity was very uncommon and was only accessed through the use of petrol and diesel generators by a very few households. public infrastructures like schools, health facilities, banks etc. all had very unreliable power supply. The evaluation found that with the PRESSD intervention, all of the target infrastructures now have uninterrupted power supply through the installed solar power systems. Schools, businesses, health facilities all now have extended opening hours. Communities can now access charging facilities in their own communities and some youths have been employed through the PRESSD project.
The project was designed with the help of the Ministry of Energy (MoE) and the Electricity and Water Regulatory Commission of the Government of Sierra Leone (GoSL). This means that the final project design was a product of what the GoSL desires for the energy sector, especially in the rural areas of the country. In the Poverty Reduction Strategy Paper III (Agenda for Prosperity), two of the key Electricity Sector Objectives were met.
The project design had a well inbuilt sustainability measures. It took a participatory approach with all relevant stakeholders onboard. This laid the platform for community ownership after the close of the project. It also included several key trainings to various stakeholders, including community members, especially those at the charging stations. Additionally, the partnership with the polytechnics rendered several formal trainings to students, especially youths in solar technology. These people will stay with the transferred knowledge in their communities and will help sustain the installed solar systems long after the project comes to an end.
Most households have switched to petty trade as their main income source because, according to them, they now have access to reliable power supply from the mini grid or stand-alone solar systems. Between households with grid connections and those with pico light connections, more grid households have bank accounts (47.4%) than pico light households (24.9%).
In both grid and pico-light connected households, the main energy source is the solar systems: 100% for grid connected households and 75.7% for pico-light connected households. The use of battery-powered lights has reduced considerably in the target districts from an average of 96.8% at baseline to an average of 7.7% at endline.
The evaluation found that a relatively high proportion of households with grid and pico light connections demonstrated a good knowledge of energy use, electricity use and their effect on the environment. This was noted to largely be as a result of the solar awareness raising campaigns done by the project.
91.7% of all target schools reported that their main energy source is the PRESSD installed solar PV systems. At baseline, none of these schools had lighting source. This energy intervention leads to significant positive effects in terms of pupils study patterns, ICT usage and pupils knowledge of and relation to the environment, energy and electricity use. Most pupils now have a reasonable knowledge about energy and the environment. Specifically, most know about climate change and global warming and the benefits of solar energy regarding environmental pollution.
This project was funded by the European Union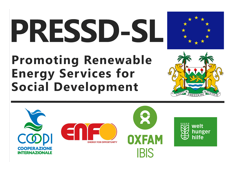 Oxfam in Sierra Leone
Oxfam is an international confederation of 19 organizations working together with partners and local communities in more than 90 countries.
Our vision is a just world without poverty, where people are valued and treated equally, enjoy their rights as full citizens, and can influence decisions affecting their lives. Our purpose is to help create lasting solutions to the injustice of poverty. We use a combination of rights-based sustainable development programs, public education, campaigns, advocacy, and humanitarian assistance in disasters and conflicts.
We challenge the structural causes of the injustice of poverty, and work with allies and partners locally and globally.
Oxfam has been working to address the human face of climate change and its impacts for over a decade and can count on a network of more than 140 experts and practitioners across the organization. We do this by:
– Supporting marginalized people to influence power and defend their rights.
– Holding governments, business, and financial institutions to account.
– Making governance systems more inclusive and participative.
– Advocating for finance to support adaptation and mitigation actions.
– Shaping thinking and action through research and engagement.
– Working with others in partnership and mobilizing public engagement.
A
project
in
collaboration
/div>