Education - Awareness-raising
Sanitation project in the Village of Azito
This sanitation project on the Azito Village was created by the NGO Empreinte Verte & Solidarité in 2017. It promotes the SDGs and raisies awareness on the importance of changing the children's bad habits.
An initiative of Empreinte Verte & Solidarité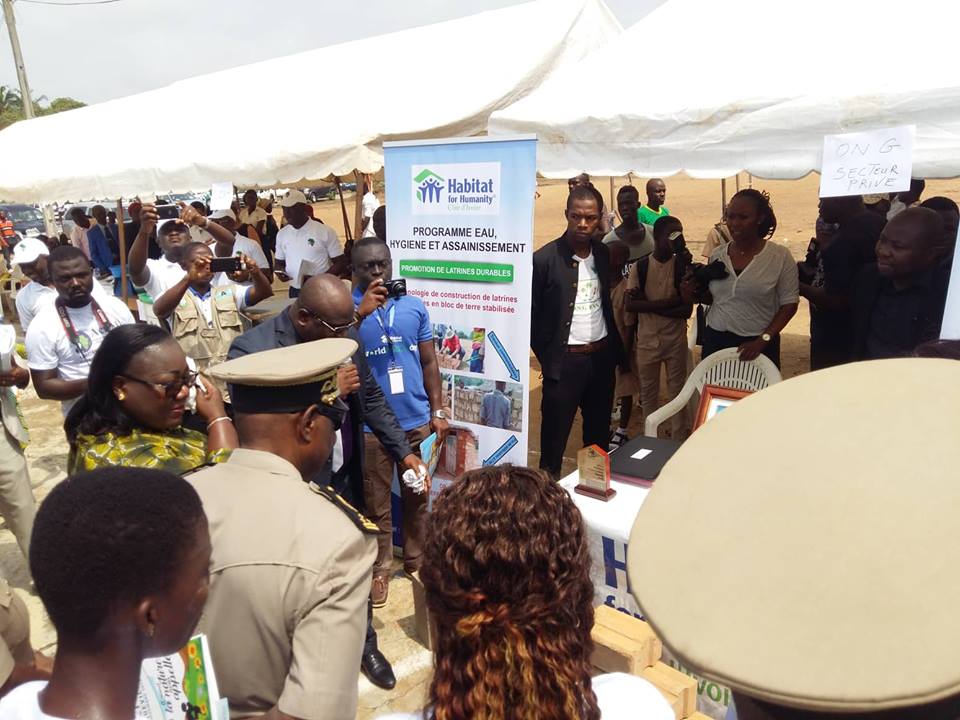 Overview of the project
The aim of the NGO Empreinte et Solidarité's project is to equip population with latrines that have built in hand washing systems in order to completely avoid the practice of open defecation which is a source of both the degradation of living conditions and to avoid diseases spreading linked to faecal peril especially between children. This works with multiple awareness, trainings, mentoring, construction of latrines and infrastructure for sustainable waste management activtities in the village. The population is at the center of this initiative and the community team is set up in order to manage and direct the project. This all enables the village to get a better follow-up on the actions that take place and guarantees the project will have a long-lasting effect.
To put an end to open defecation in order to limit spreading disease linked to faecal peril and degredation of the environment.
Around 1000 people have been helped thanks to this sanitation project
A public/common latrine built on a platform that was used as toilets for all Ghanaian fishermen was successfully dismantled this year
13 households with difficulties were able to build latrines with the help and explanations given by the NGO's local team
Over 250 children benefited from various practical trainings on how to wash their hands properly and the importance of toilets for protecting the environment and healthy lifestyles
Ghanaians engaged in improving the environment too
The NGO celebrated the International Toilet Day 2018 themed as "When Nature calls" in the Azito Village in order to continue raising awareness and to get children involved by changing their bad habits
Prospective studies
Getting information from the Environment Minister, the Sanitation Minister as well as the Mayor of Yopougon on creating the project
Initiation (using the Total Sanitation Directed by Communities method)
Surveys on households
Trainings for children
Research on possible financial resources/collaborations
All activities and action are auto-financed.
About
the
organisation
Empreinte Verte & Solidarité
Empreinte Verte & Solidarité is a non-profit organisation specialised in promoting SDGs and more precisely, in eco-design (the appreciation of plastic waste), the fight against open defecation and the fight against diseases linked to faecal peril, agronomic appreciation of by-products from sanitation used in the ECOSAN technique and environmental training, raising awareness, The NGO's slogan is "Everyone for sustainable development" and their logo expresses the union that we all should be advocating that signifies the preservation and appreciation of our environment.