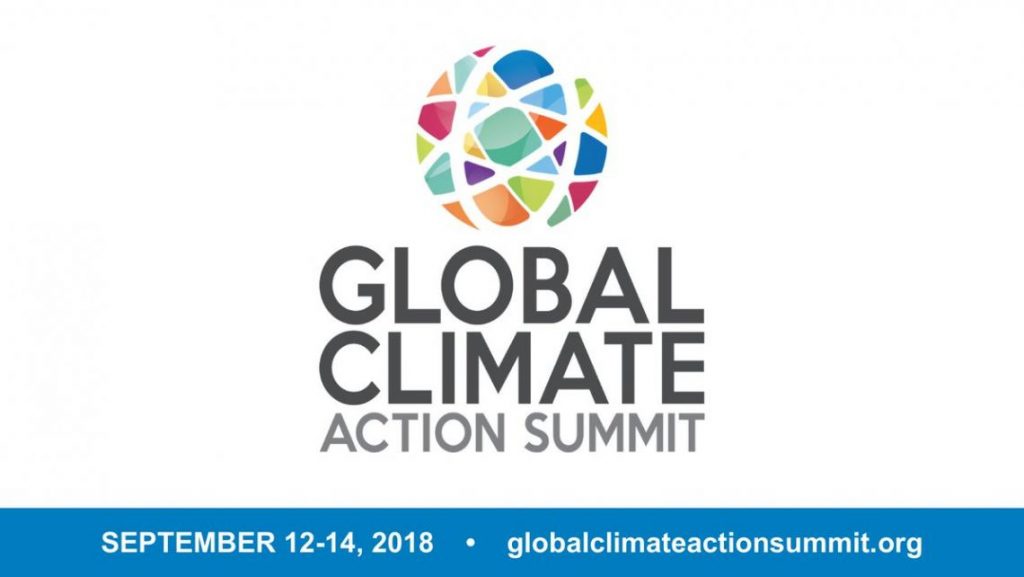 Climate Chance participates in the Global Climate Action Summit
Climate Chance participates in the Global Climate Action Summit (12-14 September, San Francisco). Bernard Soulage, Secretary General of the Association, and Vincent Kouaoh N'Cho, Vice-Governor of Abidjan, will speak at this major event of the climate agenda, especially to carry out the messages adopted during the summit in Abidjan.
Climate Chance participates in the Global Climate Action Summit (12-14 September, San Francisco), milestone of the 2018 Climate Action agenda. A delegation will be present next week, represented by Bernard Soulage, Secretary General of the Association and Leila Yassine, Program Coordinator Africa. They will be accompanying Vincent Kouaoh N'CHO, Vice Governor of Abidjan, representing the co-organisers  of the Climate Chance Summit – Africa.
They will take part in several key events as speakers, carrying out the non-state actors common work and commitments in fighting climate change on the African continent, following the Climate Chance Summit – Africa, (Abidjan, June 2018), the largest and most representative gathering of non-state climate actors and also one of the only Talanoa events in Africa  in 2018.
Climate Chance and the Council of European Municipalities and Regions (CEMR) host a side-event at the GCAS

Representatives of local governments, business and NGO will take part in this debate on the following topic:
How high tech can assist on developing climate change policies at the local level?
The collaboration between high tech companies and the citizens through their local governments is a crucial aspect to improve climate policies and fight climate change. In this affiliated event we wish to see examples of innovation, development of green energy economies, local governments actions and involvement of politicians and how high tech companies can assist subnational governments in their climate agendas. Would this be a realistic approach to reach a decarbonised society and economy?
Objectives of the session:
Analyse main climate challenges for local governments
Discuss how high tech companies can assist in improving climate change policies at the local level
Discuss how the local /civil society can be mobilised to collaborate both with the local authorities and the high tech sector
Assess if we can really achieve a decarbonised society
Speakers:
Juan Espadas, Mayor of Seville, Spain
Emil Boc, Mayor of Cluj Napoca and former Prime Minister, Roumania
Amougou Noma Régine, Mayor of Yaoundé 4,  Cameroun
Bernard Soulage, SG Climate Chance Association
A representative of the Schneider company
John Pflueger, chief sustainability expert,  for Dell EMCs Smart Cities
Barbara Rubim, Campaign Coordination Officer, Climate Action Network International
Conclusions by Stefano Bonaccini, President of CEMR
Moderator : Frédéric Vallier, Secretary General of CEMR and board member of the Climate Chance Association
This affiliated GCAS event is hosted within the programme of the SEC2SV European Innovation Day held on 11th September. It is co-hosted by CEMR and Climate Chance Association
Practical Information
Date : 11 September
Time : 3:15 PM – 4:45 PM
Venue : Computer History Museum, Mountain View, Silicon Valley.
Climate Chance' program at GCAS : Vincent Kouaoh N'CHO and Bernard SOULAGE participating in the following sessions:
11 September, all day: Building resilience today for a sustainable tomorrow
Organisers : BSR, ICF, Stockholm resilience Centre, UN climate resilience initiative A2R
This full-day event will feature a series of sessions from organizations focusing on different aspects of resilience and the practical steps that a range of actors can take. The day will showcase keynote speakers, panel discussions, and interactive sessions highlighting examples and leaders from developing and developed countries. (Read more)
12 September, 9:00 -11:30 AM : Building the global groundswell: how domestic alliances can drive greater climate action and ambition around the world
Organisers : C40 Cities, CDP, Climate Action Network, Fundacion Avina, The Climate Group, We mean business, WWF.
Representatives of companies, local and sub-national governments, academia and civil society will address why multi-stakeholder coalitions have a valuable role to play in their countries to support NDC implementation and enhancement in NDCs, and how domestic actors are joining forces in the form of collaborative initiatives—doing more than what they could have done alone. (Read more)
13 September 2018; 5:00pm – 7:00pm: Rural-urban linkages and the key role of subnational governments in the achievement of the SDGs
Organiser: NRG4SD
The event will explore the potential of regional governments in providing for resilient and sustainable communities through adaptation actions that are in line with the achievement of the SDGs like climate smart agriculture (SDG 2 and 6), climate-induced health risk prevention (SDG 3), water use efficiency (SDG 6), and coastal erosion prevention (SDG 14). Further, it will show how regional governments are addressing the nexus between rural and urban environments, a condition for effective integration of adaptation and sustainable development. (Read more)
14 September 5:00 – 8:30 PM : Dirt Saves Earth!
A dinner to celebrate the people leading regenerative land-based solutions to carbon drawdown. 400 attendees will enjoy a thematic, interactive reception and seated dinner with food by some of San Francisco's best chefs. (Read more)