European Dialogue on Non-State Climate Action
Brussels, Belgium
The Climate Chance Association, the European Committee of the Regions and The European Economic and Social Committee, organised jointly an event on 23 April to launch the European Dialogue on Non-State Climate Action. The purpose of this event was to put forward an action plan aiming at assessing, recognising, accelerating and supporting climate actions, as well as improving governance. The event seeks to promote the common voice of non-state actors (civil society, companies, workers) and the sub-national authorities (regions and cities).

The event was part of the European Talanoa Dialogue, a participatory process launched at COP 23 in 2017 under the Fijian presidency to allow countries to assess the progress made so far towards achieving the long-term goal of the Paris Agreement, and to help them increase the ambition of their Nationally Determined Contributions by 2020. The Talanoa Dialogue seeks to answer three questions, around which the event was structured: "Where are we?", "Where do we want to go?" and "How do we get there?"

The conclusions of the European Dialogue on non-state climate action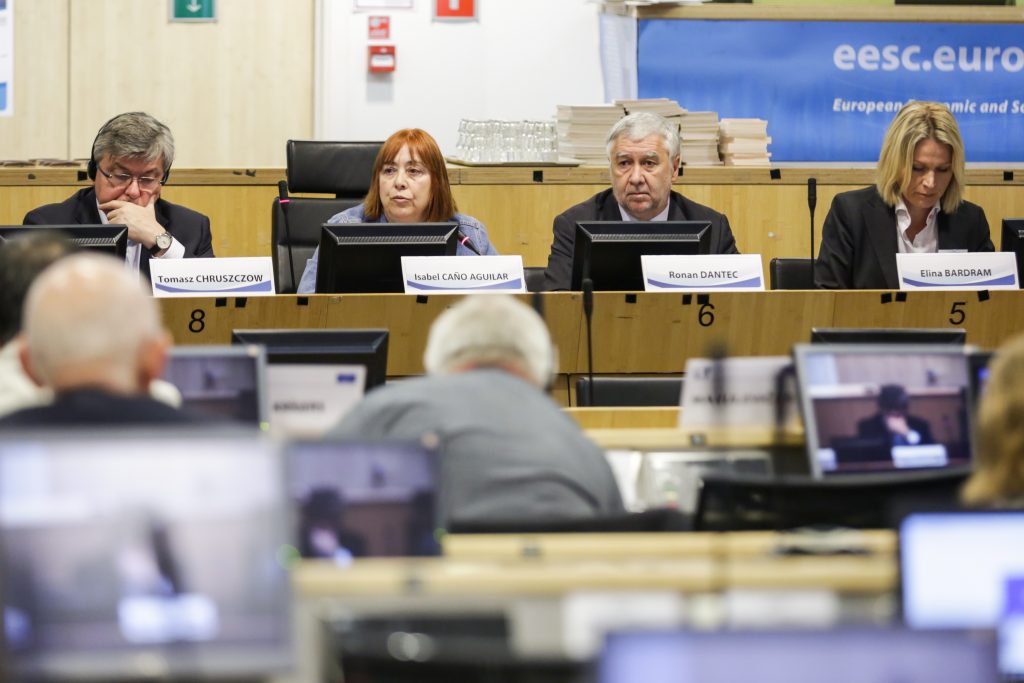 This event brought together experts from national and subnational governments, the private sector, financial institutions and leading international and civil society organisations.
Representatives of the UNFCCC (Thomasz Chruszczow, High-Level Climate Champion ;  Niclas Svenningsen, of the UNFCCC Sustainable Development Mechanisms) and of the European Commission ( Yvon Slingenberg, Director International, Mainstreaming & Policy Coordination) also took part of the discussion.
« Non-state actors should be considered as equal partners of state officials and not just deputies. As a result, new synergies between state and non-state actors are needed, « said Ronan Dantec, president of the Climate Chance Association.
Its conclusions have been submitted as inputs in the Talanoa Dialogue.
Download the document
Photos
Where are we? (Copyright: EU 2018)

Where are we? (Copyright: EU 2018)

Where are we? (Copyright: EU 2018)

Where are we? (Copyright: EU 2018)

Where are we? (Copyright: EU 2018)

Where are we? (Copyright: EU 2018)

Where do we want to go? (Copyright: EU 2018)

Where do we want to go? (Copyright: EU 2018)

Where do we want to go? (Copyright: EU 2018)

Where do we want to go? (Copyright: EU 2018)

Where do we want to go? (Copyright: EU 2018)

Where do we want to go? (Copyright: EU 2018)

Framing of the participatory circles – moderator: Bernard Soulage, Secretary General of the Climate Chance Association (Copyright: EU 2018)

Participatory Circle (Copyright: EU 2018)

Participatory Circle (Copyright: EU 2018)

Participatory Circle (Copyright: EU 2018)

Participatory Circle (Copyright: EU 2018)

Participatory Circle (Copyright: EU 2018)

Participatory Circle (Copyright: EU 2018)

Participatory Circle (Copyright: EU 2018)

Participatory Circle (Copyright: EU 2018)

Participatory Circle (Copyright: EU 2018)

Participatory Circle (Copyright: EU 2018)

Participatory Circle (Copyright: EU 2018)

Participatory Circle (Copyright: EU 2018)

Participatory Circle (Copyright: EU 2018)

Participatory Circle (Copyright: EU 2018)

Participatory Circle (Copyright: EU 2018)

Participatory Circle (Copyright: EU 2018)

Closing session (Copyright: EU 2018)