Follow Climate Chance during the CLIMATE2020 online conference
Climate Chance will be participating in the 7th edition of the Climate 2020 online conference scheduled for March 24th. Read more to find out all the details on the Observatory team's intervention and about the overall online event: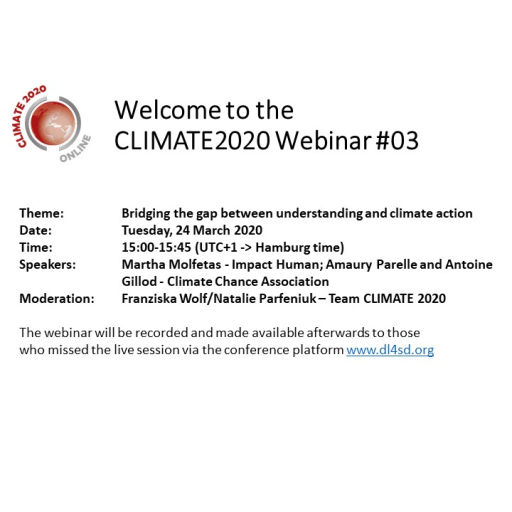 An online climate conference gathering more than 1,500 international delegates
The Climate 2020 online climate conference organised by the University of Hamburg and transmitted by IISD will take place from the 23rd-30 March 2020.
The objective of the conference is to convey the most relevant and most recent results related to climate change and its impacts. The online conference that will gather over 1,500 representatives from around the world and will therefore be a brilliant opportunity for early career researchers worldwide to present their findings at a global level.
The 7th Edition of this Climate Change Conference CLIMATE 2020 has partnered up with many major organisations including: UNESCO, United Nations Environments Programme (UNEP), Sahara and Sahel Observatory, World Meterological Organisation (WHO) and many more.
The Climate Chance Observatory's participation in the online climate confernce
With the Observatory's 2019 Synthesis Report on global non-state climate action being released last November, both Amaury Parelle, the Observatory Coordinator and Antoine Gillod, Research Officer, were keen to seize the opportunity to share some of the findings of this comprehensive study.
In fact, the Observatory Team will be discussing the importance of local and non-state led climate action and more precisely, the team will « discuss ways of synthesizing and transmitting information to bring to the attention of stakeholders what is being done elsewhere in terms of climate action »  during the Webinar #03 entitled « Bridging the gap between understand and climate action » that will take place on the 24th March at 3 p.m. -3:45 p.m.
They will be speaking alongside  Martha Molfetas from Impact Human and the session will be moderated by Franziska Wolde and Natalie Parfeniuk  from the CLIMATE 2020 team.
The Observatory's work on #LocalClimateAction
Prior to the online conference, we suggest you take a peek at the Observatory's most recent Synthesis Report and in particular the #LocalActionBook.
This book gathers the main results displayed by climate initiatives of cities and regions in 2019, introduces 13 case studies of cities and regions and then travel around the world in 80 initiatives to explore the diversity of actions implemented by local and subnational governments in 10 public policies issues and linking climate and SDGs.
Access the entire 2019 Synthesis Report on global non-state action here
Enjoy your reading!
Practical information
To register for the conference and access all webinars
To find out more about the Webinar #03 Bridging the gap between understanding and climate action