Territorial planning and territorial management
Lyon-Confluence urban project
Doubling the size of the Lyon city centre without increasing the greenhouse gas emissions

An initiative of Public company "SPL Lyon Confluence" (Société Publique Locale)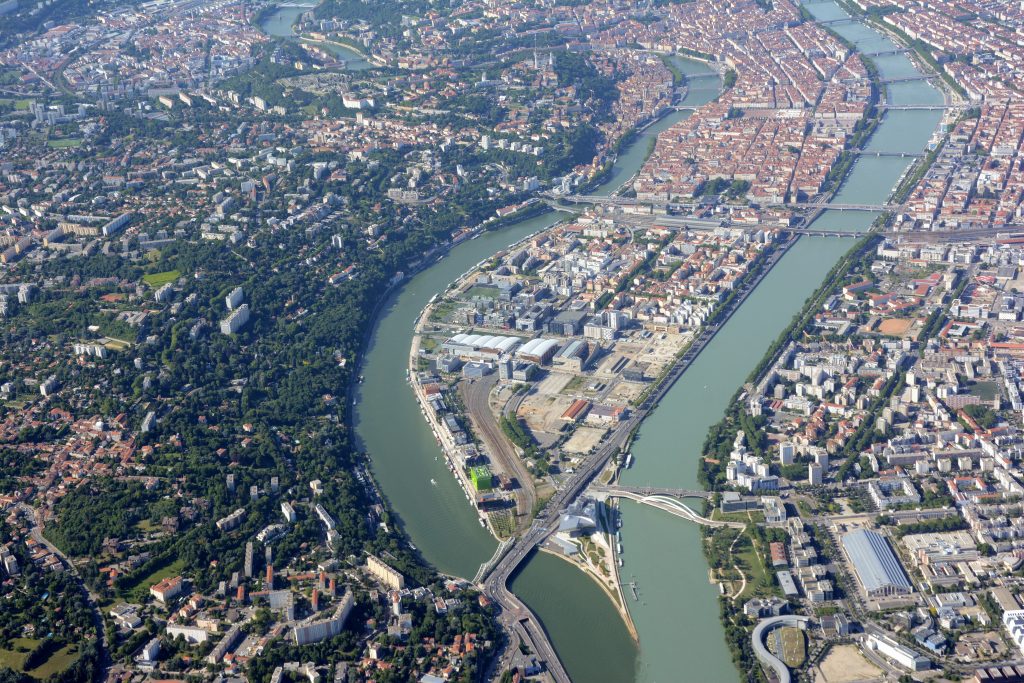 © Desvigne Conseil - Jean-Philippe Restoy (Regard du ciel) / SPL Lyon Confluence
Overview of the project
France – Lyon-Confluence, sustainable neighbourhood
Since 2000 (until 2030), the development of the Lyon-Confluence urban project takes place in an area of 150 hectares (half existing neighborhood, half new construction and public spaces). In total, this represents the construction of an additional 1 million m2, without increasing the level of greenhouse gas emissions; thanks to:
the increase of local renewable energy production (photovoltaic & district heating)
the construction of new buildings with high energy performance (including positive energy blocks)
the energy renovation of the existing neighborhood (private groups of owners, social housing operators, office spaces, public facilities)
sustainable mobility
the development of a smart grid, via an energy data management platform.
Several international partnerships (Europe, Japan) contribute to make the Lyon-Confluence district a demonstrator for the sustainable development of Lyon Métropole.
Examples of partners working with the SPL Lyon Confluence :
Services of Lyon Métropole – Real estate developers (Bouygues Immobilier, Linkcity, Icade, OGIC, Vinci Immobilier, Cardinal…)
Industrial partners (Enedis, Toshiba, Dalkia, EDF, Schneider…)
Social housing operators (Grand Lyon Habitat, Lyon Métropole Habitat, Régionale d'HLM de Lyon, Rhône Saône Habitat…)
Private groups of owners – associations (Hespul…)
Consultancy companies (TRIBU, Enertech…)
Operators of electric mobility services (Navya, Keolis, CNR, Bluely…)
Inhabitants, workers and users of the neighbourhood
European Commission
Caisse des Dépôts (French financial institution)
Doubling the size of the Lyon city centre without increasing the greenhouse gas emissions
500,000 m2 of new buildings with high environmental performance (passive buildings or positive energy block).
Energy renovation confirmed for 70,000 m2 of old buildings.
Total power installed of photovoltaic installations higher than 2MW.
Relevance of the governance: private company with public shareolders, created by Lyon Métropole, to develop the Lyon-Confluence urban project. Multi-stakeholder public-private partnerships.
Private and public funding (local public investment, land sale, French and International calls...)
Photos
"Hikari" city block © Aurélie Pétrel / SPL Lyon Confluence

Eco-renovation works at "Cité Perrache" ©Jérémy Mathieu / SPL Lyon Confluence

NAVLY, an autonomous electric shuttle ©Laurence Danière / SPL Lyon Confluence
Vidéo presentation of the project
About
the
organisation

Public company "SPL Lyon Confluence" (Société Publique Locale)
To implement the Lyon-Confluence urban project, Lyon Métropole created an ad hoc company: the Local Public Company "SPL Lyon Confluence". As urban developer of the neighborhood, the assignments of this company concern: urban planning studies, land control, new construction, renovation of the existing neighborhood, public spaces, consultation, information and communication.