Biodiversity - Forest - Land uses
Expanding Culture of Tree Planting and the fight against desertification
Aicha Association for local and environmental development aims to fight against droughts, enhance the regional level of schooling, fight against the rural exodus and produce organic food and all this by planting trees.

An initiative of Association AICHA for local and environmental development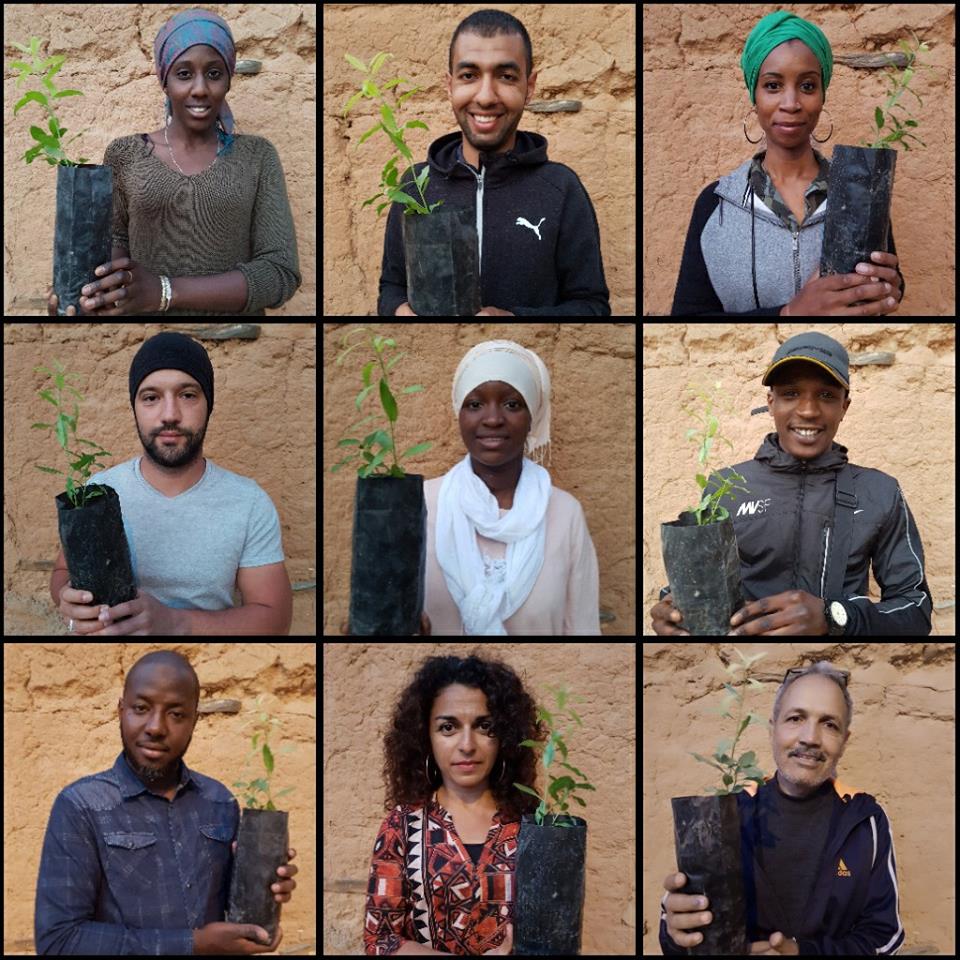 Overview of the project
The AICHA nursery for expanding the culture tree planting and the fight against desertification has the following objectives:
1. Expanding the culture of tree planting
2. Producing and donating over 20,000 fruit trees per year (beneficiaries: farming families in 20 rural communes from provinces : Guelmim, Sidi Ifni et Assa-Zag)
3. Workshop for Civic Service volunteers, Erasmus + and European Union Humanitarian, international volunteers and European/national interns (Glen-Géco/ASA, IUT…)
4. Producing and donating seeds (preserving organic seeds).
Association AICHA for local and environmental development is the project initiator.
Fighting against desertification and promoting family farming.
Between 2009 and 2018, 27 planting campaigns were organised and 28,000 plant donations of fruit trees were made in partnership with Road tree'p de France and the head of Province Water and Forests.  140 families benefited from 8 rural communes.
A partnership convention was signed between AICHA Association and ANDZOA ( Nationl Agency fir the development of Oasis and Argan Zones) in order to plant 40,000 argan plants  sprad over 200 Ha.  They also count on planting 20,000 plants/year so they can be given to surrounding communes.
The association'sa action is to :
In 2016, Labelled by COP22 and Winner of "Prix des Terres" prize organised by the Yves Rocher foundation.
In 2017 Winner of the certification of NGO prize organised fir the first time by the Ministry in relation with the parlement and NGOs.
40% of the association was financed by the association the goal is to produce 20,000 plants per year by 2020.
Project video (in Arabic)
About
the
organisation

Association AICHA for local and environmental development
Association Aichawas created on 17th August 2005, in Oasis Oumifiss commune of Laqsabi- Tagoust province of Guelmim in Morocco.
This educational project of the Aicha Assoication was established bearing in the mind the pain and suffering the Region of Guelmim-Oued Noun has been through, the team thought out multiple specific projects in which
The right to sustainable development for all is a permanent concern
Environmental education enables citizens to act on understanding and respecting it.
Objectives :
Acting on and reacting  to social, economic, natural and climate changes
Identifying and implementing educational projects
Developing international cooperation.
THE VISION
Association AICHA aims to contribute to sustainable development focusing on Oasis regions in the South of Morocco. The organisation also want to stop rural exodus, restore and develop agro ecology, planting trees and eco-tourism.
Main task
Improving quality of life around the Oasis zones by creating modern oases, diversifying income-generating activities all based on creating forests with trees that can survive through droughts such as Argan trees, carob trees and cactus.
Values
AICHA is volunteer-based structure that also lives off  innovation, respect and team spirit reminding us of how we are all responsible for maintaining the ecological balance of the planet to guarantee a healthy life for all and for future generations.
The AICHA equation :
Scientific and technological culture + values + work = development