Economic transition (sustainable supply-chains,circular economy, employment)
Sustainable housing - Building
Territorial planning and territorial management
City_Lab
Makesense Africa trains and supports citizens, entrepreneurs, and organisations to build together the innovative, collaborative and inclusive Africa of tomorrow.

An initiative of Makesense Africa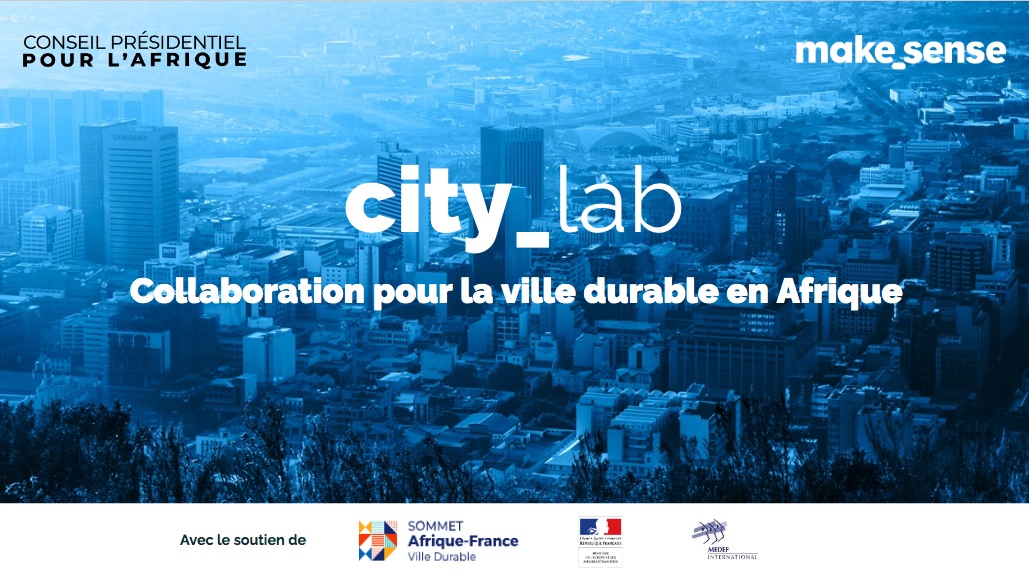 Overview of the project

70% of carbon emissions come from cities, especially from a few sectors: food, energy, waste, water, transport and construction.
The future of African cities must be imagined and realised through a joint mobilisation of all stakeholders. The realities we are facing today is the momentum to create a new collaborative approach to sustainable cities: the City_Lab brings together all sustainable city stakeholders – governments, municipalities, private organisations, start-ups, NGOs – around the same objective: to co-construct impactful projects.
To achieve this, we foster collaboration at 3 levels:
Creation of favourable local ecosystems and training of facilitators in multi-actor collaboration methods
Identification of synergies and emergence of multi-stakeholder projects through collective intelligence workshops
Formalisation and acceleration of multi-stakeholder projects to accompany them from prototyping to scaling up
To bring between 5 and 12 project concepts to fruition that aim at making the sustainable city happen: support 2 projects in scaling up, and support 10 projects in the structuring and implementation of their prototypes. The goal is also to create a community of actors around the sustainable city.
07/01/2021 - project still in progress
Over 200 people mobilised around the launch events… the rest is yet to come!
Private organisation, a partner of the Eiffage Senegal project
About
the
organisation

Makesense Africa
Our vision: Makesense Africa is the laboratory for all to design, test and disseminate innovative tools and approaches for a new vision of an inclusive, collaborative and entrepreneurial Africa.
Our mission: to train and support citizens, entrepreneurs and organisations to develop solutions and projects for the Africa of tomorrow.
Other partners / supporters
City-Lab, a pan-African programme for sustainable cities, was designed by Makesense Africa and the CPA. Its version in Senegal is co-sponsored with Eiffage Senegal.