Education - Awareness-raising
Clean Cooking and Safe Water Supply in Africa by EcoAct
Cleaner cookstoves play a vital role in the transition to a low-carbon economy: they reduce carbon emissions, wood consumption, thus local deforestation. By investing in such offsetting projects, organisations help reduce and avoid GHG emissions, and improve the lives of people living in rural communities in developing countries.

An initiative of EcoAct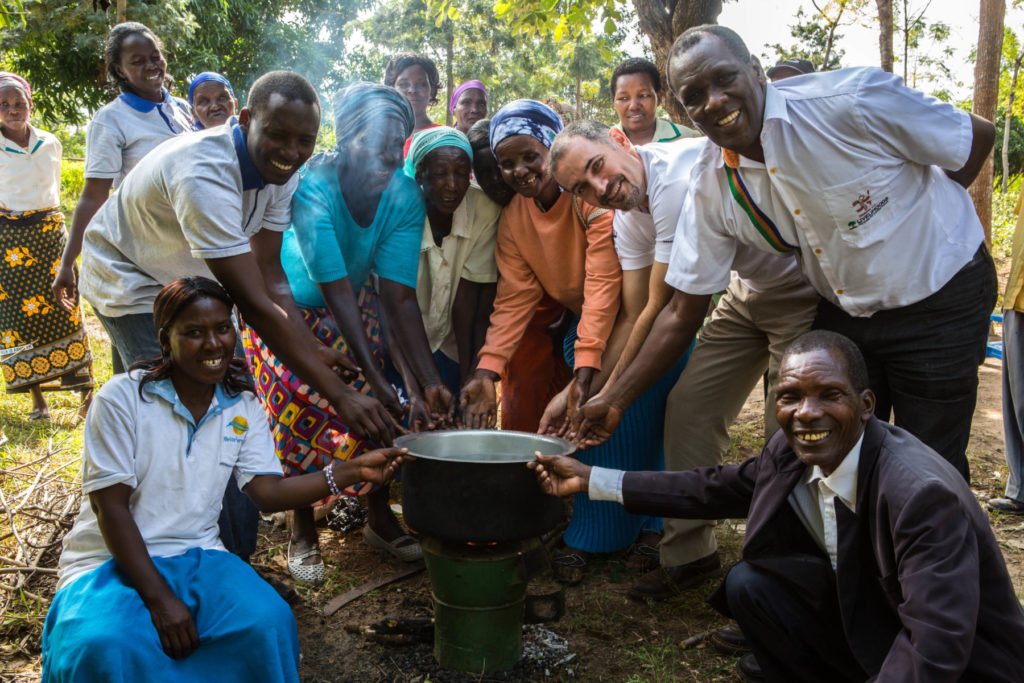 Overview of the project
The need for accessible and cleaner energy is clear: three-stone stoves are the most commonly used traditional cooking stoves in rural areas of sub-Saharan Africa. This traditional stove uses a large amount of non-renewable wood, and generates high indoor air pollution with the release of smoke. It is therefore the cause of many pollution-related diseases such as pneumonia, heart disease, chronic obstructive pulmonary disease, lung cancer, stroke, etc. In addition to having a negative impact on health, these stoves have a negative impact on the environment: generating high greenhouse gas emissions while burning a lot of fuel, and thus increasing deforestation rates (resulting in loss of soil fertility and reduced water retention capacity).
In addition, more than 300 million people in sub-Saharan Africa do not have access to clean water. To make water safe to drink, it must be boiled, but without access to energy, many families consume unsafe water, which spreads disease.
Therefore, the goal of EcoAct's program of activities will be to deploy devices and technologies, both at the household and community level, which will reduce the amount of wood needed to cook or access boiling water. The program of activities will expand the distribution of efficient stoves and clean cooking devices continent-wide and fund additional water kiosks or filters to provide households with access to clean water.
EcoAct's multi-country Clean Water and Improved Cooking program aims to provide access to clean water and improved cooking solutions to rural communities in Africa. The dissemination and implementation of these technologies will reduce GHG emissions associated with the use of biomass for cooking and boiling water. The project is deployed in Cameroon, Kenya and Senegal.
07/01/2021 – project still in progress
The expected results in Cameroon are as follows:
Distribute between 15,000 and 20,000 improved cookstoves, and 24,000 in Senegal
Emissions reductions of up to 60,000 tCO2e will be avoided each year
Up to 300,000 tCO2e are expected to be avoided during the 5-year credited period
In addition, in all countries where the project is developed, the improved efficiency of the stoves will reduce the use of wood by 60%, thereby reducing the greenhouse gases associated with burning wood for fuel. Thus, this project will reduce the time spent collecting wood for women and children from 12 hours to 5 hours per week, allowing them to do and achieve other activities.
The project in Cameroon has not yet been launched, so for the moment we only have the following expected results:
The World Health Organization (WHO) estimates that inhaling smoke from traditional woodstoves is equivalent to smoking 2 packs of cigarettes per day. 100% of the beneficiaries will benefit from improved indoor air quality due to a reduction in harmful gases, thereby reducing respiratory diseases.
Households will benefit from access to improved and affordable charcoal stoves, which will provide a cleaner and more sustainable energy source. These stoves will allow households to spend less money on firewood and therefore save money to be used for other activities.
Direct and indirect jobs will be created through this project: local artisans, local employees, etc. Local artisans will be trained to make the improved cookstoves and local employees will be hired to develop and monitor the project on the ground.
The project will also empower the communities once the project is completed, as women will be able to build new stoves and repair them themselves.
The program is currently intended to be funded privately from the project implementer or its partners, or from private investors.
About
the
organisation

EcoAct
EcoAct is an international climate consulting and project development company that helps companies and organizations achieve their climate ambitions.
Our verified carbon offsetting projects are carefully selected or developed by our team of climate finance experts and project developers to ensure they deliver real carbon emission reductions and life-enhancing social benefits. They must meet the Sustainable Development Goals.
It is extremely important to us that every offsetting project we develop or support delivers tangible and measurable benefits to the communities in which they operate, empowering them to have ownership of a more sustainable future. We believe strongly that to effectively reach our goals to tackle climate change we must also counteract deforestation, support reforestation, finance renewable technologies, lift people out of poverty and deliver equitable sustainable development.
These beliefs are at the heart of our project development work. Our award-winning Sudan Low Smoke Cookstoves project is the first to be developed in a conflict zone and is delivering health and economic benefits to Sudanese families, with particular focus on female empowerment. The Hifadhi-Livelihoods Cleaner Cookstoves project (financed by The Livelihood Fund and developed in partnership with EcoAct) is training local artisans and project officers to manage the distribution of better and cleaner cookstoves in rural Kenya with positive impacts for families, communities and the environment.
Other partners / supporters
The PoA is a voluntary action of EcoAct, which acts as the coordinating and managing entity (CME). In general, the project will be developed with various partners and organizations in the target countries at the VPA (Voluntary Project Activity) level.
Other partners will be the implementing agencies at the VPA level, which will be local and international non-governmental organizations, local businesses, social enterprises, or international businesses, all of which specialize in cooking devices and/or clean water solutions.
Each case will be specific and will require the CME to provide carbon expertise and funding to develop VPAs under the Action Program. Voluntary project activities (VPAs) registered under the PoA will be funded through the generation and sale of voluntary emission reductions.