Economic transition (sustainable supply-chains,circular economy, employment)
SuperA Peru Project
ORU Fogar aims to bring together the regions throughout the world to identify their concerns, to work on joint proposals, and to make their voices heard.

An initiative of United Regions Organization / Forum of Regional Governments and Global Associations of Regions (ORU Fogar)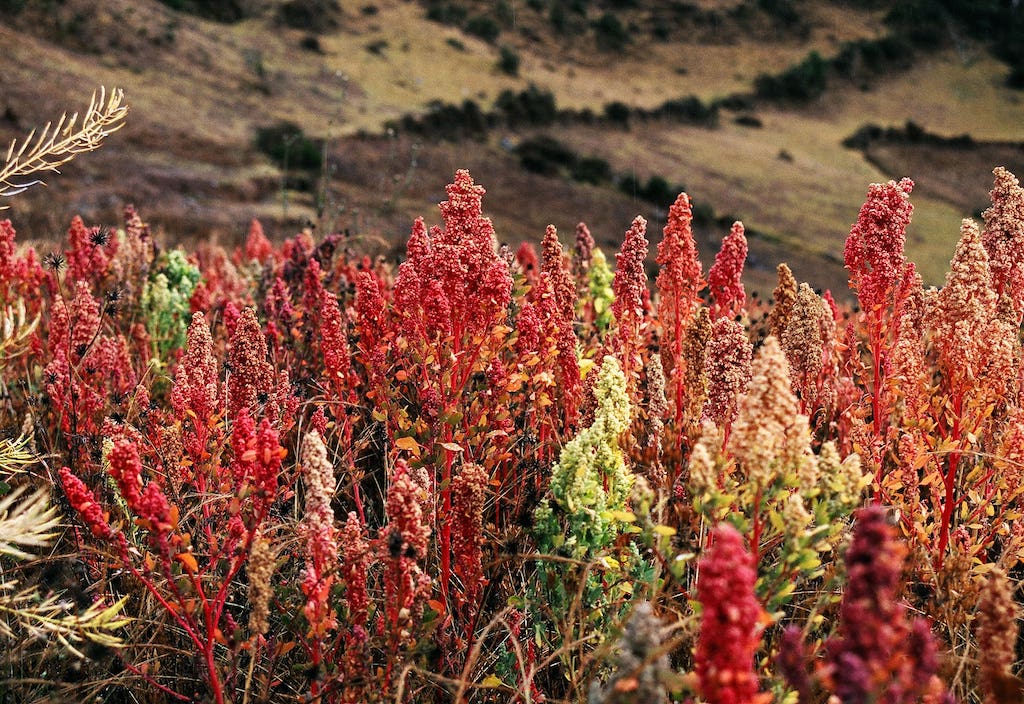 Overview of the project
On 17 August 2018, the Food and Agriculture Organization of the United Nations (FAO) awarded an Honourable Mention to the SuperA Peru Project of the Andean Regional Community in the competition for 10 Innovative and Scalable Initiatives for Sustainable Rural Development in Latin America and the Caribbean: "Promotion of the Certified Export of Quinoa and Chestnut Superfoods."
The period during which the outline of the SuperA Peru Project was proposed in the country, showed a low and heterogeneous level of productivity, and high levels of informal process: business and labour, high income inequality, low level of technological innovation, among other aspects.
These conditions were more critical in the rural area (Andean), where to date populations in poverty are settled, suffering from large social gaps like malnutrition, health services, education, water, and sanitation.
These populations are involved in a subsistence economy. It is estimated that at the national level, more than 7 million rural inhabitants continue to be poor, and among them, is the segment of rural quinoa producers.
The general objective is to contribute to sustainable development and poverty reduction in the Commonwealth of the Andes. In addition, we want to obtain a concerted and sustainable economic development that is strengthened for the quinoa value chains.
Networking, internationalisation
Quinoa benefits 1046 producers
1.1 The associated, qualitative and sustainable production capacity is enhanced for chestnut and quinoa producers
1.2 Training and technical assistance for producer organizations in business planning and management. Introduction of innovative production and sustainable management techniques
1.3 Cascading grants and business plan development for public programs
2. The ability to articulate to international markets of the actors in the chains of C. and Q. is increased, with a focus on organic and fair trade
2.1 Training of producer organizations in negotiation, marketing and commercialization techniques (CAMEX)
2.2 Analysis, preparation, transfer and monitoring of traceability and internal quality control processes
2.3 Technical and financial support for obtaining and managing organic and fair trade certifications CESVI (chestnut) / Mancomunidad (quinoa)
2.4 Technical support in the search and negotiation of better contracts and commercial channels for commercialization and export – CAMEX
3. Coordination and synergies between public-private actors in the C and Q service chains are strengthened
3.1 Preparation of concerted instruments for the promotion of productive chains and replication of good practices (public investment projects, SNIP, legal regulations and public support mechanisms) –Mancomunidad
3.2 Preparation and implementation of regional marketing plans on organic production and fair trade of C. and Q. With the support of CAMEX
3.3 Systematization of the project and workshops between public and private sectors to identify and replicate good practices
About
the
organisation

United Regions Organization / Forum of Regional Governments and Global Associations of Regions (ORU Fogar)
ORU Fogar's goal is to build a global governance, in which regions count and their voices are heard, and to work for the regions.
We represent the intermediate governments in all the organisations that have a direct impact on the quality of life of their populations, in a spirit of loyal cooperation with the municipal power.
In 2018, ORU Fogar won the annual Best Practices Award from the government of Catalonia (Spain): it's aimed at promoting and encouraging good practices currently being implemented by regional governments, and that seek to improve the quality of services provided to citizens.
There are three working groups established to promote the implementation of SDGs in regions: food sovereignty, sustainable development, and development cooperation.
Other partners / supporters
CESVI- NGO and Italian Foundation
CAMEX – Peruvian Chamber of Foreign Trade
Regional Community Of The Andes
CONSORCIO CTM ALTROMERCATO